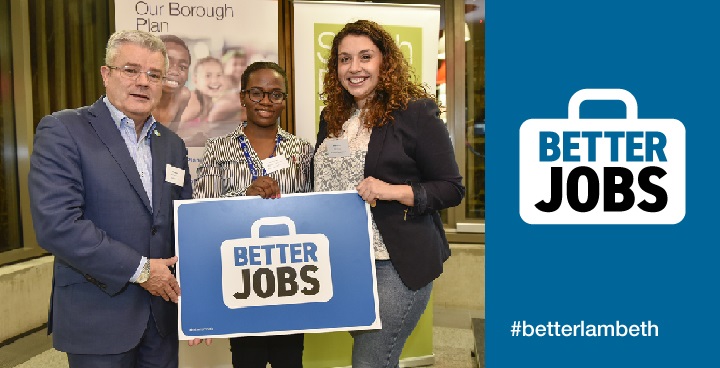 The event at Coin Street Neighbourhood Centre in Waterloo took place in Living Wage Week, during which the announcement was made that the London Living Wage will rise to £10.20 an hour.
Lambeth Council has been an accredited London Living Wage Employer since 2012 which means all council employees are at minimum paid the rate.
Word from the Cabinet
Cllr Paul McGlone, Lambeth's deputy leader who spoke at the event (pictured), said: "We are fully committed to the living wage because it makes such a difference in people's live. Despite the wealth in our city many working people still struggle to make ends meet.
"We believe that a hard day's work deserves a fair day's pay, and one of the ways we are achieving that objective is by supporting the London Living Wage."
Care workers
Lambeth's successes include getting all 30 of the council's adult home care providers paying the wage to their 2,217 employees, three-quarters of whom live in Lambeth.
Kirsty Watson (pictured), a care manager at StockwellCare Support Services based in Streatham, said her company employs 70 people who provide domiciliary and support care in the borough.
Kirsty said: "We pay the London Living Wage because we recognise the importance of our care workers and the value of the services they provide. Paying the rate helps retain our staff, they are brilliant people who work incredible hard and we feel that's the least we can do.
"The work can be very hard, and require long hours. Nationally care workers tend to be on the lower end of the pay scale, and that's a situation we as a business wanted to address."
Council contracts
The London Living Wage is also paid as the minimum wage on 99 per cent of Lambeth Council contracts, with the ambition to get full coverage coming closer. The next step will be negotiations with contractor Veolia to pay the London Living Wage rate to staff working on its environmental services contract with the council.
Lambeth Council also supports the Living Wage Friendly Funders scheme which encourages and supports recipients of grants to pay the Living Wage. The Living Wage Friendly Funder scheme has been funded by People's Health Trust and developed in collaboration with a range of funders including Trust for London, Barrow Cadbury and Comic Relief.