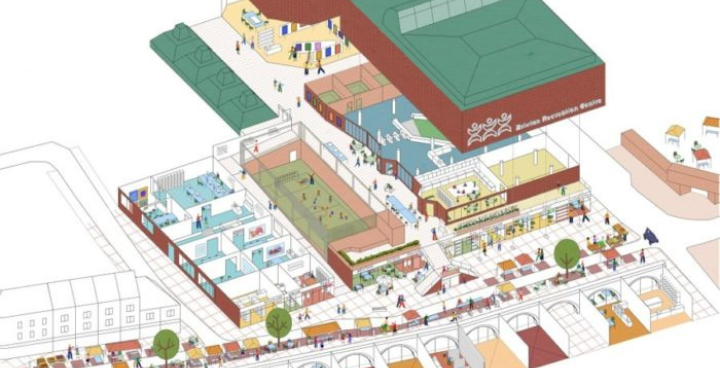 The works will bring to life the area around the Rec by lighting the building, reinstating the original leisure centre signage and carrying out shopfronts improvements to make the street more welcoming for shoppers.
The Rec will benefit from improvements to its publicly accessible areas, and a 'Walk of Fame' will celebrate sporting achievements along the pedestrian ramp, while space will be cleared on the concourse for future events or exhibitions.
Cllr Jacqui Dyer, Cabinet Member for Inclusive Economy and Equalities, said: "I am pleased that we are continuing to make great progress on enhancing the area around Brixton Rec and supporting local businesses by encouraging more shoppers to visit.
"We are making the public areas more open and welcoming by adding more lighting that will complement the Rec's distinctive architecture."
This is the latest phase of the Revitalising Brixton Rec Quarter project to make the area around the Rec, and Brixton Station Road, more accessible while preserving the rich heritage of the Grade II listed building.
The work is expected to be completed by mid-December, with each shop closing for between two to four weeks before the end of October. The council has been supporting affected businesses to find temporary storage space while the works take place.
During the period of works the council will continue to support businesses and traders by encouraging shoppers to visit the Black Farmers' Market on September 10 and October 8.
Cllr Dyer added: "We will do everything in our power to minimise the disruption to the shops while the renovation work is going on.
"I hope that when these works are completed, even more people will support these unique local businesses who add so much to Brixton's culture, economy and character."