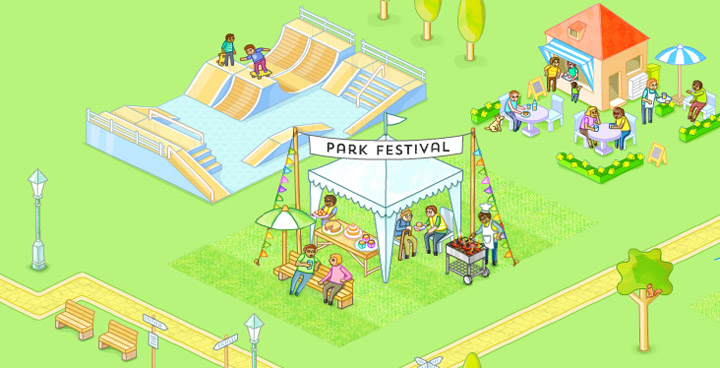 The Lambeth Parks Challenge lets you set up a virtual park and try your hand as park designer, manager and gardener, all within budget of course. You can choose what to build in your park and make improvements. You then get to decide how much you want to spend on the nitty gritty details of looking after your park.
We'll be using your comments and designs to contribute to future parks planning, and it will help us understand what you – Lambeth people – prefer.
Anyone can have a go at setting up a park. Go to the Lambeth Parks Challenge website to get started.
Working with you
Getting residents and communities more involved in the way we design and provide services is a big part of what being a cooperative council is all about. Lambeth people use parks in lots of different ways – for relaxing, meeting friends, going to an event and exercising to name just a few.
By asking you what you'd spend money on we can better understand what your priorities are, and we give you a bit of insight into the decisions our parks team has to make.
This is the second challenge we've designed with White October. The first was the award-winning Lambeth Library Challenge, which let you build your own digital library with materials and supplies based on real budget information.
Lambeth Parks Challenge illustration by Sophie Klevenow.
Your thoughts…
Have you had a go on the parks challenge? How did you get on? Have any questions? Let us know in the comments below. You can even post a link for everyone to see your park.