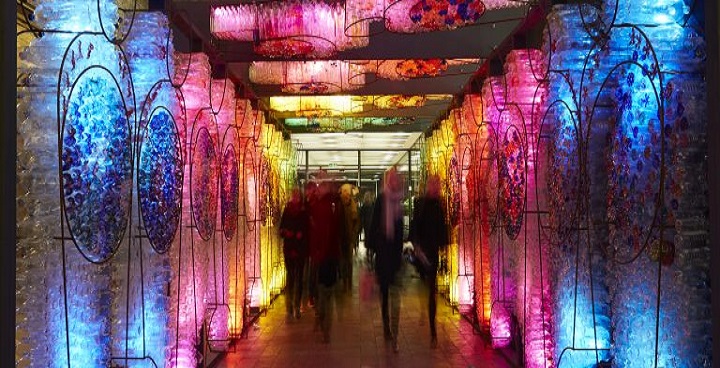 Lumiere 2016 lit the way
In 2016, more than 40 UK and international artists reimagined London's iconic architecture and streets – painting and making sculptures out of neon and transforming the city into a dazzling nocturnal art exhibition.
Lighting up London
Works shown in Lumiere 2016 included luminous flying fish floating over Regent Street; projections that seemed to turn the saints and apostles over the doors of Westminster Abbey into a giant stained-glass window; neon 'balloon' dogs in the windows of Coutts Bank on the Strand; and a tree of moving lights in Leicester Square – and over 20 more amazing sights.
Bringing in visitors
More than a million visitors enjoyed Lumiere London in 2016. Visitors to the event spent £22m in London over the weekend at a time when the city is usually quiet following the Christmas break. 2016's groundbreaking event was the winner of Best Debut Event and Best Outdoor Event of the Year
Bigger and brighter for 2018
Lambeth's South Bank and Waterloo are new locations for Lumiere. For 2018, the UK's largest light festival will be bigger, will run from January 18 to 21, will feature places both north and south of the River Thames and will once again be free and child-friendly with streets closed to traffic, so everyone is invited.
New and classic locations
Covent Garden and Victoria are also added as new destinations in the 2018 festival. You can expect to see brilliant art built on electric light in King's Cross and on streets all across the West End (including Oxford Street and Carnaby) again.
Light therapy for winter
The Mayor of London Sadiq Khan has commissioned Lumiere 2018 from leading arts charity Artichoke, saying "There's no better way to banish the January blues – so get ready to take to the streets and marvel at a dazzling array of incredible artwork and installations."
Look out for Lumiere