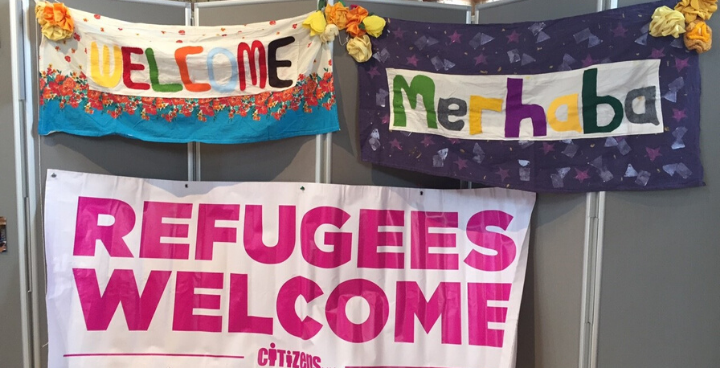 We're marking Refugee Week 2021 to celebrate refugees in Lambeth and worldwide and highlight our continued commitment to resettle them in the borough, providing a safe space for those who are fleeing war.
We agreed to resettle an additional 38 families over the period of 2020 to 2025 under a new government scheme called the UK Resettlement Scheme (UKRS). This scheme has the ambition to resettle 5,000 refugees a year, supporting refugees from all over the world.
In 2016 the council pledged to resettle 28 families under the Vulnerable Person Resettlement Scheme (VPRS) and Vulnerable Children's Resettlement Scheme (VCRS) and as part of the agreement, we have now managed to resettle 31 families across the borough. This figure doesn't include children who are born in the UK from families we welcomed under the program.
National campaign
The theme of Refugee Week 2021, 'We Cannot Walk Alone', is an invitation to extend your hand to someone new, someone outside your current circle, someone who has had an experience you haven't, or is fighting for a cause you aren't yet involved in.
Lambeth libraries
During the week Lambeth's libraries Writers and Readers Festival for children and young people will feature refugee stories in support of the 'We Cannot Walk Alone theme. The programme includes Dr Eiad Zinah who will share his story of fleeing from Syria in a boat with 400 others, his old and new life, and what he has achieved. The aim of the online event on June 20 is to create a better understanding of those who had to leave their home, family, and life.
Word from Cabinet
Cllr Winifred, Cabinet Member for Equalities and Culture said: "Every refugee has a story to tell and a shared experience. Please join our Writers and Readers Festival events, as well as other celebrations organised during Refugee Week so that people can share their experiences, and so that we can all learn more about our shared humanity."
"As well as creating learning opportunities, sharing and celebrating, the council will continue to lobby the government to do more when it comes to supporting desperate families fleeing war and persecution build new lives in Lambeth and across the country."
"Against our wishes and in the face of campaigning from other local authorities and organisations like the Refugee Council, the Government has halted new arrivals. We continue to put pressure for this scheme to resume at the earliest opportunity so that we can do the right thing and welcome many more families who are forced to flee their homes."
About UKRS
Currently, we are continuing to welcome new families under the UK Resettlement Scheme (UKRS). This scheme started in March 2021 intending to resettle vulnerable refugees in need of protection from a range of regions of conflict and instability across the globe.
Working in partnership
We work closely with our partners including Single Homelessness Project (SHP) which was commissioned by Lambeth to provide intensive resettlement support to families arriving under the VPRS and UKRS schemes. We also work with community groups such as Local Churches, mosques, schools, health professionals, businesses, and charities including the Refugee Council and Citizens UK through Lambeth citizens. In 2019 we were named Community Sponsorship Local Authority of the Year. We had more Community Sponsorship schemes than anywhere else in the UK, enabling these community groups to take on the role of supporting resettled refugees in Lambeth the rest of the UK.
Lambeth Citizens
Lambeth Citizens is part of Citizens UK, which has campaigned on refugee issues for many years and were widely involved in persuading the government to set up the Vulnerable Persons Resettlement Scheme (VPRS) scheme under which the families have come here.
Since the first refugees came to Lambeth 5 years ago as part of the VPRS scheme  (they have been supported by Lambeth Refugee Welcome, part of Lambeth Citizens.
Co chair Barbara Wilson said ''It's been a huge pleasure getting to know the families – ensuring they don't have to walk alone –  helping them settle into life in London, watching the children grow in confidence and do well in school and the adults begin to find work. I'm especially pleased that after five years the first families are receiving their indefinite leave to remain so they can feel really safe and secure in their new home and continue to contribute to their communities. We look forward to welcoming new families over the next few years.''
AlKoyder Family from Syria
On 12 September 2017, we welcomed and resettled our 17th family in Lambeth who came from Syria. The Alkoyder were a family of 3 upon arrival including mum, dad, and their one-year-old baby boy. They share their experience of living in Lambeth.
"I've lived in Lambeth for four years. When I arrived at my place of residence, people visited us, some of them volunteered with the refugees, and some of them were residents of the local community. They helped us with psychological support and to get to know the area, and if we needed something, we could turn to them.  Those people deserve respect, love and appreciation.
Lambeth is a beautiful area with its organised and beautiful construction, green spaces and trees on the sides of the roads.  It has multiple types of transport to choose from in addition to the wonderful Underground that saves you half the time.
As for education, I do not have enough knowledge about it, but during the presence of my child for two years in the nursery and one year in the reception, the teaching staff were wonderful in treating children well, cooperating with parents, communicating directly with us, and raising problems to address them together.
In addition to the chains of supermarkets providing the daily needs of the residents, and the presence of various stores that meet the various needs.  And through my experience of health services during my pregnancy before Covid, there were home visits by the midwife and follow-up at the family centre and good treatment as well as having GP appointments when needed for me and my family
We received a lot of care and kindness. Thank you, NHS! Thanks to everyone who helped us!"
Thoughts from Haja Ahmed
Haja was part of the 22nd  family to resettle in Lambeth from Sudan in February 2018, joined by her 4 children. Due to Covid some of their plans would need to be put on hold but her family still managed to make the best of their time here in Lambeth. Haja shares her thoughts and feelings with us.
Haja wrote: "We can't walk alone. My memory leads me to the hell of a place in the wall of time. The moment of birth come back. Come to the pulse, to the spring inside me, then tear me apart.  I departed alone, split., burned. Don't leave me. We can't walk alone. Nighttime in London is not like all nights. Its reassurance was mixed with the voice of Isobel: my little mother, and the peace in Barbara's eyes. Gwenda is tender like a breeze, Rosemary embraced me, and Laura is a light of my way, then Raifa, who has a kind heart. My fear faded away in my presence in Lambeth.  Lee's voice still pierces my ears that "nothing is worth worrying." My friend, rest in peace. Death hurts the living more. Some of the living people were as dead as me before I moved to Lambeth. This land called Lambeth embraced me as my mother did. Finally, we are alive, me and my children. Our faith is we can't walk alone, and the branch will bloom eventually even if the wind didn't apologise."
---
Find out more
Visit the Refugee Week official website to find out more information, get involved in events or carry out 8 simple acts.