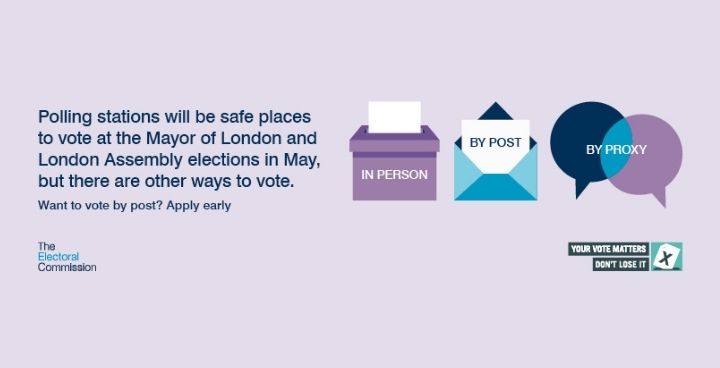 Lambeth residents registered to vote in local government elections can vote at these elections, including European Union citizens.
Polling stations will be safe places to vote, but there are other ways to vote, such as by post or proxy.  Apply early if you'd like to vote by post or proxy.
About the elections
There are three ballot papers for this election:
Mayor of London
Lambeth and Southwark constituency London Assembly Member
London wide Assembly Members
Find out more about the GLA at www.londonelects.org.uk.
You must be registered to vote by Monday 19 April if you'd like to vote at the elections.  If you're already registered in Lambeth, you don't need to apply again.
Postal and proxy voting
Postal voting means a ballot paper is posted to you before polling day. If you want to vote by post at this election, you must apply by 5pm on Tuesday 20 April.
Proxy voting is where someone else votes on your behalf, either at your polling station or by post.
If you'd like to vote by proxy at this election, you must apply by 5pm on Tuesday 27 April.
Visit our website to download, complete and submit a postal or proxy application form.
Poll cards
Poll cards will be sent to registered voters from 22 March.  You do not need your poll card to vote but will need to confirm your name and address at the polling station. You can find out where your polling station is online.
Covid-19
Safety measures at polling stations will include:
Limited numbers inside polling stations
Face coverings worn by staff
Protection screens
Hand sanitiser
At the polling station voters should:
Wear a face covering
Maintain social distancing
Bring your own pen or pencil
Election results
Vote counting will take place on Friday 7 and Saturday 8 May.  Results will be available at www.londonelects.org.uk.
If you'd like more information or a paper postal/proxy application form visit www.lambeth.gov.uk/vote or phone 020 7926 2254.