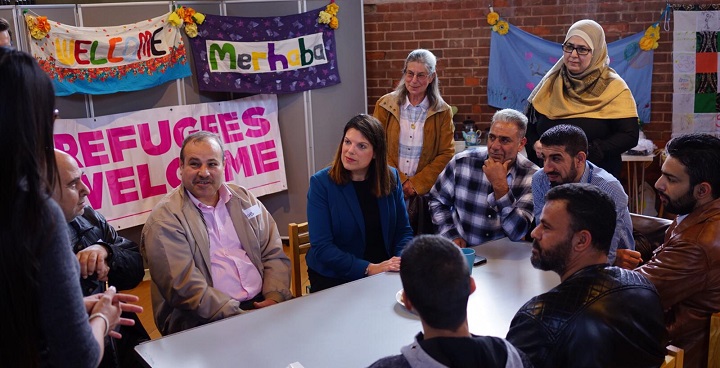 Immigration Minister Caroline Nokes visited All Saints church in West Dulwich, to meet refugee families and local organisations who have helped integrate refugees to Lambeth.
The visit was planned to coincide with the announcement from the Home Office that the UK will continue to resettle thousands of refugees under a new scheme set to start next year.
Lambeth has played a key part in the settlement of refugees, with 27 families from Syria being welcomed to the borough since the Council agreed to support the Vulnerable Persons Resettlement Scheme (VPRS) in 2016 – more than any other London borough.
The council has also been named the Community Sponsorship Local Authority of the Year, with more Community Sponsorship schemes than anywhere else in the UK, that enable community groups including charities, faith groups, churches and businesses to take on the role of supporting resettled refugees in the UK.
Four families have recently settled in Lambeth through this scheme, in addition to the 27 refugee families here through the VPRS.
Word from the Cabinet
Cllr Sonia Winifred, Cabinet Member for Equalities and Culture, said: "Lambeth has always been a place that welcomes people from all over the world with open arms and open minds, and that open and caring culture has again been exemplified with the welcoming of Syrian refugees over the last year.
"It's very apt that the Immigration Minister chose to come to Lambeth and make this announcement, meeting some of the families our community have helped settle here and hear first-hand how important the scheme has been.
"It is important that this government commitment continues and we will keep making the case on behalf of vulnerable people all over the world. We happy to welcome them to Lambeth."
Citizens UK
Barbara Wilson, Lambeth Refugees Welcomes and leader with Citizens UK, said: "We're grateful that the Government today announced a one-year extension for the scheme and that families arriving via Community Sponsorship are additional to the overall Government target. We're hopeful that this will act as a great incentive for more voluntary groups to take part in refugee resettlement and help bring families to safety."
'Opportunity'
Home Secretary Sajid Javid confirmed the UK plans to resettle in the region of 5,000 of the world's most vulnerable refugees in the first year of the new scheme, once the flagship Vulnerable Person's Resettlement Scheme concludes next year.
The UK will aim to resettle refugees at current levels, adding to the nearly 16,000 refugees who have already found safety here since 2015 under the Vulnerable Persons Resettlement Scheme and the many thousands resettled under other routes.
Mr Javid said: "Since 2016, Britain has resettled more refugees from outside Europe than any other EU state – and it's vital we continue to do all we can to help the world's most vulnerable. Under our new scheme, thousands more people fleeing conflict and persecution will have the opportunity to build a new life in the UK."