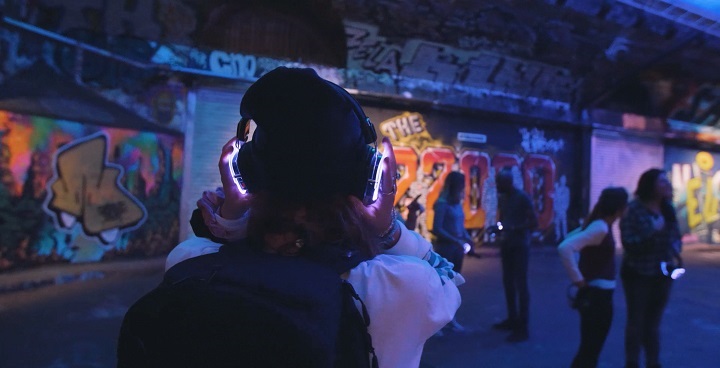 On Wednesday May 20, free online events programme LeakeStreetLIVE (in your lounge), partners with silent guided dance and meditation global community Secret Sunrise to host an early morning virtual guided dance helping self-motivate Londoners during lockdown.
Mindful practices
Secret Sunrise are on a mission to celebrate life through music, movement and connection. The unique concept was born under African skies and spread throughout the world. Normally, participants meet in a unique location and are given headsets before accredited facilitators use headphone technology to guide them through a series of mindful practices (including meditation, breathwork, movement and dance) accompanied by music of all genres. But the new online format means people can take part anywhere there's wifi, to shake out their self-isolation blues and receive a giant dose of happiness before the day ahead. The session will start at 8am and guests are welcome to dress up!
New experiences
Founder of Secret Sunrise in London, Margot de Broglie, said: "These online events offer an exciting new experience that get people jumping out of bed during the lockdown routine. Something unlike they've ever done before, it's amazing to see whole households joining together and connecting with groups of strangers from their respective living rooms. The experience sparks joy, passion, and connection within people's homes, which is exactly what we all need right now!"
Connecting around the World
Anna Clarke, a 26-year-old participant added, "By the end, most of us were crying as we were connecting with strangers from around the world. As weird as it sounds, the one hour of joy gave me such a sense of relief, to just let go of the worries and feel less alone"
More information
To register for this FREE experience, see: https://www.eventbrite.co.uk/e/secret-sunrise-x-leakestreetlive-tickets-104554996810
#LeakeStreetLIVE's free online programme still celebrates urban culture through food, drink, paint and play. ensures continued support of creative talent with exclusive live music and graffiti tutorials every Thursday night With lockdown entering week eight, the programme adds morning motivation to evening entertainment.