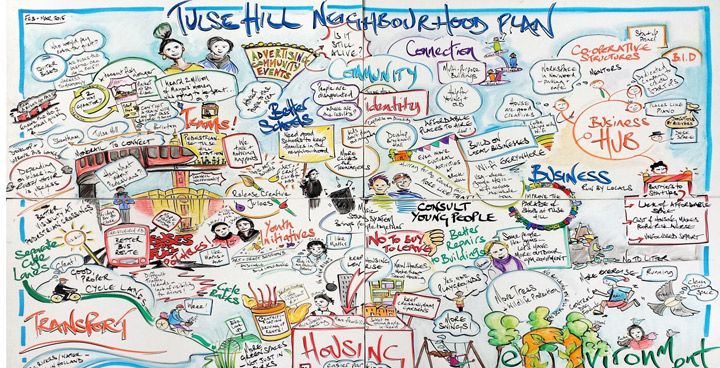 Residents, businesses and community groups in Tulse Hill have come together to form a Neighbourhood Forum, in order to prepare a Neighbourhood Plan for their area. Two separate neighbourhood planning applications are being considered and we want to know what you think.
1. Application to designate the Tulse Hill Neighbourhood Area
2. Application to designate the Tulse Hill Forum
You can view these applications online, at your local Lambeth library or at the reception of Phoenix House, 10 Wandsworth Road, Vauxhall, London, SW8 2LL.
The publication period on both applications is Thursday 22 October to Friday 4 December 2015.
Events
Tulse Hill Workshop, Jubilee Community Hall, Tulse Hill Estate, Brixton,  SW2 2LY on Thursday 26 November 6 – 8pm.
Weekly Tulse Hill Neighbourhood Area and Forum Surgeries , Tulse Hill Pop-Up Library, St Martin's Scout Hut, High Trees, SW2 3PU on Monday's 9.30am – 12.30pm.
How to comment
Please let us know your views by:
Reponses must be received by  Friday 4 December 2015.