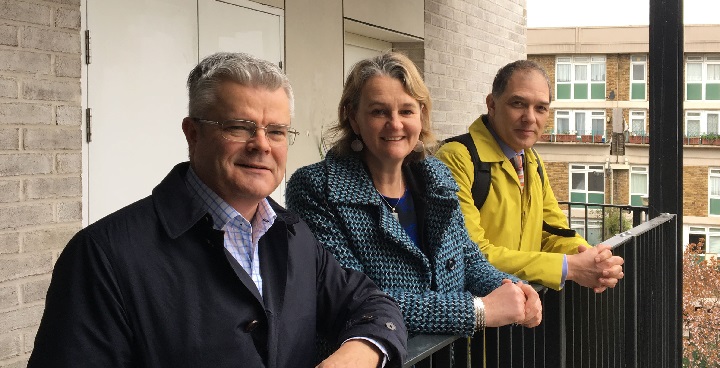 The Wynne Road site is 10 minutes from Brixton tube, and offers new one-bedroom homes for sale to middle-income Londoners who are priced out of the property market and salaried out of social housing.
The households incomes at Wynne Road are £44,000 on average and all currently live or work in Lambeth. They will own 100 per cent of their home, which differs from other more complicated shared equity schemes. The completed homes have been sold at with a 20 to 30 per cent discount to the open market rate.
Word from the Cabinet
Cllr Lib Peck, Lambeth Council leader, said: "Lambeth Council is committed to delivering a range of affordable housing options for local residents. I am delighted that Pocket's fourth affordable development in Lambeth has reached completion.
"These 25 affordable homes are part of a solution to meeting the demand for housing across the borough and contribute to the Your New Town Hall Projects 47 per cent affordable housing across the scheme.
"They will make a real and lasting addition to Lambeth's affordable housing stock as the next buyer must also meet the same income eligibility criteria."
Pocket
Pocket's CEO Marc Vlessing joined Cllr Peck and Cllr Paul McGlone, Lambeth Council's deputy leader, at the site on Wednesday (March 29).
Pocket is making a substantial investment in affordable housing in Lambeth. Wynne Road is Pocket's fourth development in the borough and follows the completion of similar schemes in Streatham Hill and North Lambeth.
Pocket has doubled its development pipeline year-on-year since 2013 and the ambition is to complete 4,000 homes by 2023. The company is working with over half of the capital's local authorities to deliver much needed affordable housing.
Pocket currently has developments in Hackney, Camden, Lewisham and Ealing among other boroughs.
'Innovative antidote to the housing crisis'
Marc Vlessing, Pocket CEO, said: "We are delighted to be finishing our fourth affordable development in Lambeth. Brixton is a vibrant and popular part of London to live in, but in recent years it has become more difficult for young Londoners to get a foot hold on the property ladder here.
"These 25 apartments are a long-term investment in Lambeth's affordable housing stock and we are grateful for Lambeth Council's continued support for our innovate antidote to the housing crisis."
The Your New Town Hall scheme is reducing Lambeth Council's core office buildings from 14 to two, saving at least £4.5million per year. It also delivers 219 new homes of which 47 will be affordable including Wynne Road.