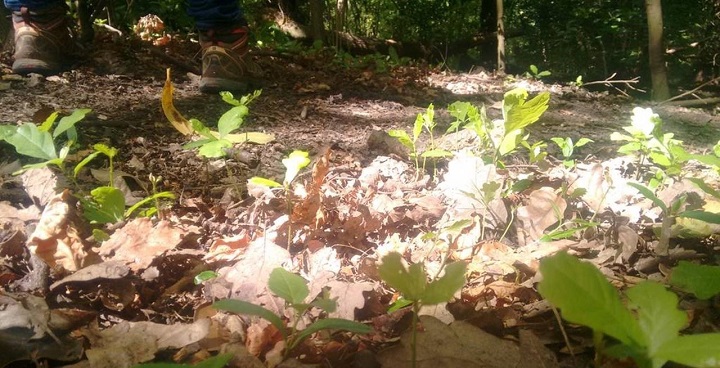 Lambeth's Parks worked with the Great North Wood team to plant a wildlife-friendly hedge in Norwood Park.. Volunteers – including local schools –helped improve the park for wildlife and move away from  a damaging 150-year-old gardening fashion for imported evergreen shrubs.
Regrowth
Hedges of cherry laurel, spotted laurel and rhododendron have been planted in the UK since the 1800s. They're evergreen – but that's exactly the problem for wildlife in nearby woods. Nothing grows in their shadow. No saplings, wildflowers, or food plants for native pollinators. Cherry laurel even produces cyanide to stop other plants growing! In some sites where the Great North Wood team have taken it out, oak seedlings are now popping up in the spring sunlight.
Traditional plant mix
Norwood Park's volunteers planted with traditional hedging plants, moving away from the laurel fashion. The percentages of each plant in the mix and the Latin names are included to make them easier to find in garden centres.
Hawthorn (Crataegus monogyna) (40%). Its spines stop animals and protect nesting birds like wrens.
Blackthorn (Prunus spinosa) 20% – One of the year's earliest flowering shrubs, benefiting nectar-feeding insects.
Hazel (Corylus avellana) (10 %) Leaves feed native moth caterpillars like the barred umber and nut-tree tussock.
Guelder rose (Viburnum opulus) (10%) – Clusters of white flowers are particularly attractive to pollinators
Spindle (Euonymus europaea) (10%) – Birds come for the gorgeous berries or eat insects on its leaves.
Field maple (Acer campestre) 5% – Its craggy bark provides insect habitat.
Dog rose (Rosa canina) 5% – Humans love its flowers and know its thorns; leaf-cutter bees love its leaves.
Update your garden to be part of the bigger picture
Hedges insulate us from the noise and pollution of urban traffic. Your plant choices can link up with the wider landscape.
Spiny native species (hawthorn, blackthorn, dog rose) deter vandalism.
For year-round privacy, try holly and ivy. – bright red berries and white flowers are autumn and winter food for birds and insects including South London's signature spring and summer butterfly, the Holly Blue.
For more information
The Great North Wood – a sprawling ancient landscape that was slowly broken down as London grew –lives on in place names like Norwood and Gipsy Hill. The Great North Wood project at London Wildlife Trust is now halfway through its four-year programme. It is supported by the National Lottery Heritage Fund, community groups, landowners, Lambeth and neighbouring councils, to revive and reimagine this ancient landscape as a home for nature and people.