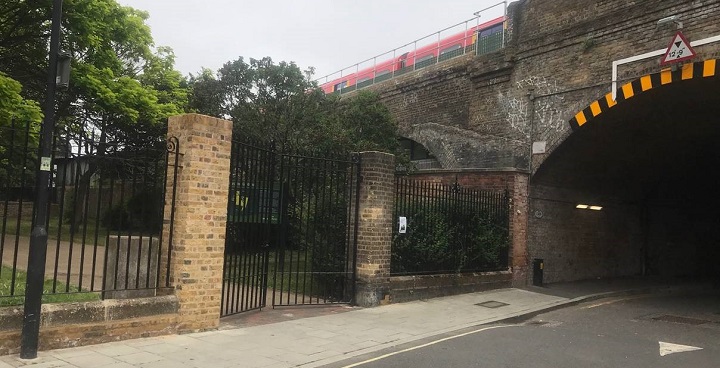 A robust conservation-led approach by Lambeth's work to repair and restore the public park at Old Paradise Gardens, containing Grade II Listed boundary walls, has enabled Historic England  to remove this site from their Heritage at Risk register.
Conservation-led approach
The restoration included stone works to repair sections of the 18th century boundary walls, rebuilding a brick pier at the Whitgift Street entrance , and commissioning a traditional manufacturer  to make new gates with finials and scrolls copied from the patterns of the adjacent railings. The heritage style entrance gate replaces a previously unsightly gate at the Whitgift Street entrance.
Vital roles
The works on site  began in January 2021. This was preceded by site inspections by council officers and ward councillors to reach an agreement on  how best to allocate £108K funding from the section 106 levy that developers  pay Lambeth as planning gain.  Councillors have kept local people updated throughout the works, and Lambeth's Parks team and Conservation officers both played a vital role.
Word from the Cabinet
Cllr Sonia Winifred, Lambeth Council Cabinet Member for Equialities and Culture, said: 'We are delighted that Lambeth's conservation-led approach to restoring the park means it will remain part of our heritage and is no longer considered to be at risk."
Green space
Lambeth's work will keep Old Paradise Gardens a precious green open space between highrise buildings – it's a shortcut to the riverside and people have been constantly stopping by to see the work. Repairs to the children's playground equipment and plans for soft landscaping will follow, possibly focused on more planting to match a wildflower planting led by Lambeth Garden Museum.  Old Paradise Gardens is also a vital 'green corridor' in a part of the borough that is relatively deficient in accessible green space, as well as access to nature. It helps both residents and visitors to Lambeth travel quickly and safely between the Albert Embankment and South Bank and other equally important public open spaces such as Archbishop's Park, Vauxhall Park and Vauxhall Pleasure Gardens. Its recent improvements show the commitment of Lambeth to 'connecting up' the borough so that people – and wildlife – can make better use of their local open spaces, and they continue to function as 'green lungs' to make their lives better and healthier.
More information
The Old Paradise Gardens site was Lambeth Palace's original graveyard from 1703 to 1853 when it closed for lack of space. By 1880 the site, by now very neglected, was converted into a public garden, with work completed in 1884. Gravestones from 18th century and before – one of the main reasons for Grade II listing – were moved to the boundary walls.
For more about Lambeth's Parks and other award-winning green spaces see the council's web pages