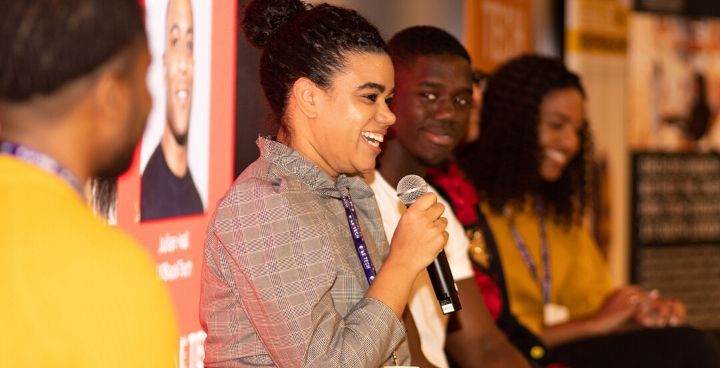 After successfully supporting entrepreneurs to raise over £9.6million and created over 100 jobs elsewhere in London, OneTech is expanding to increase the support provided for aspiring tech entrepreneurs and digitally-enabled start-ups in Lambeth, Lewisham, Southwark and Wandsworth.
Working collaboratively
The new programme is made possible by the South London Innovation Corridor, a partnership between Lambeth, Lewisham, Southwark and Wandsworth councils that seeks to make opportunities within the creative and tech industries more equitable and accessible to people who are currently underrepresented and underestimated.
It will offer free opportunities for budding tech founders powered by industry experts Capital Enterprise,UKBlackTech and Foundervine. Aspiring entrepreneurs can get access to mentoring, workshops, pre-accelerator programmes, networking, access to free workspace as well as links to paid internships.
OneTech event to celebrate the launch of the programme, OneTech invited residents of the four boroughs to join them for free taster workshops, drinks and networking at WeWork in Waterloo.
Upcoming opportunities to get involved in the programme:
On 4 December UKBlackTech will kick off their first workshop at the Passmore Centre at London South Bank University. The aim of this first workshop is to demystify the start-up world and explore what things you need to take into consideration when starting and sustaining a digital business.
Book your place now: OneTech Workshop – Demystifying The "Start-Up" World Eventbrite.
In January, Foundervine will hold their first flagship Startup Weekend. A three-day immersive learning programme designed to support future entrepreneurs to build startups from scratch. From ideation to refine and pitch, make sure you book your place on this course as competition for places will be high. Event details to be updated soon – watch this space.
Stash app founder
Ryan Downes, founder of Stash, an app that teaches people how to invest and manage personal finance via gamification says: "OneTech has been great. Just being around a network of other people who are doing the same thing as you, or going to app launch events and realising you're not that far behind makes you feel better and more motivated."
---
Book your place
To register for OneTech visit www.weareonetech.org