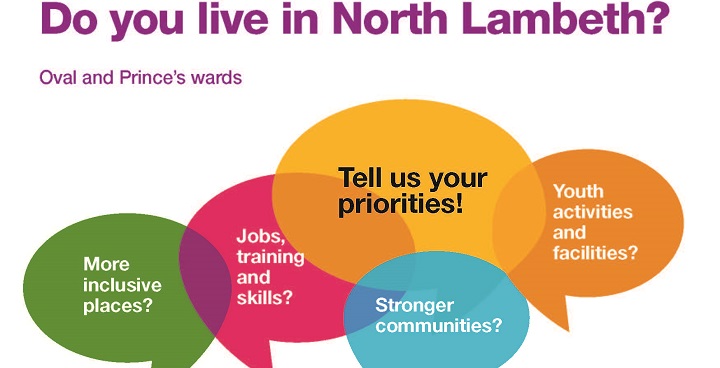 Counting down: your final say on changes in Oval and Prince's Wards
 More inclusive spaces? Jobs training and skills? Stronger communities? Youth activities and facilities? Something else? Tell us your priorities for this part of North Lambeth.
Why have your say?
 With cuts to the Council's budget, some of the funding needed for local improvements will now come from the Neighbourhood Community Infrastructure Levy (NCIL), a tax paid by developers on new buildings.
We want local people to benefit from NCIL income, so we are seeking your views to help guide future spend on the priorities that local communities identify.
Let us know now
Please complete a short survey online by 24 February 2017.
We launched our consultation with meetings and online surveys on 6 January. Now it has only a few more days to run. The Cooperative Local Investment Plan (or CLIP for short) is an opportunity for everyone who lives, studies, or works in Oval and Prince's wards to have their say about what matters for the future of the local area.
Ask friends and neighbours to have their say, too
We want as many people as possible to have their say on the priorities for Oval and Prince's wards. If you've already had your say, spread the news. Encourage other people in your local communities to respond. Tell friends and neighbours about the consultation and invite them to look at http://lambeth.gov.uk/op-wards and complete the short survey online. 
Remind your friends and neighbours that 24 February is the final day for them to have their final say.
Counting on young opinions
There is also a survey specifically designed for young people's needs and priorities, hosted on the Young Lambeth Co-op website. This also closes on 24 February.
 Where can I find out more?
If you want to read about the CLIP In more depth please visit our Prince's and Oval consultation page which contains information about the purpose of the consultation, the CLIP process, and how to get involved. You can also download a North Lambeth information leaflet.