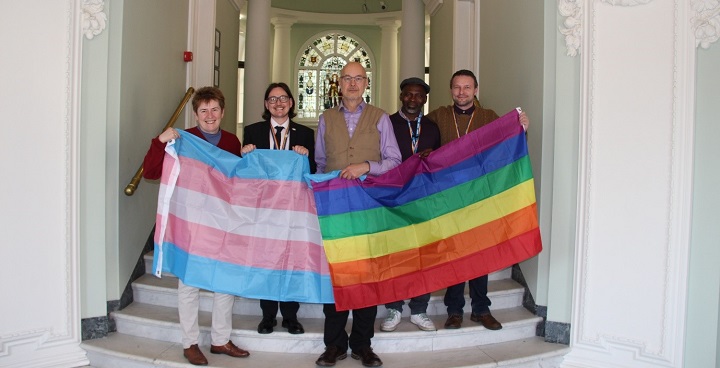 Following a successful one year pilot, Lambeth Public Health have agreed to re-commission the LGBT Foundation to continue to deliver their successful Pride in Practice programme.
Pride in Practice
Pride in Practice is a training, quality assurance and social prescribing programme to strengthen and develop Primary Care Services' relationship with lesbian, gay, bisexual and trans (LGBT) patients within the local community. Pride in Practice enables practitioners to confidently and effectively meet the needs of LGBT patients through increased awareness and understanding of different healthcare needs.
Word from the Cabinet
Cllr Danny Adilypour, Lambeth Council Cabinet Member for Health, said: "The Pride in Practice award helps reassure the LGBT+ community that they will get inclusive services from Lambeth's GPs and pharmacies. Continuing the programme means many more Primary Care health providers can train to confidently meet the needs of our diverse communities."
Initial pilot
The Pride in Practice award demonstrates commitment and dedication to ensuring a fully inclusive patient-centred service. During the one-year pilot funded by the Government Equalities Office (GEO), the LGBT Foundation engaged with 21 GP practices and 14 pharmacies – issuing awards to Grantham Practice, Stockwell Group Practice, Herne Hill Group Practice, Mawbey Group Practice, Brockwell Park Surgery, The Exchange Surgery, and Clapham Family Practice. Clapham Family Practice, first to receive a Gold award, said "Pride in Practice gave us the opportunity to reflect not only on good work we already do, but areas where we needed to do better for our LGBT patients. The LGBT Foundation are fantastic to work with and every GP practice in the country should engage with them".
Key outcomes
The pilot in Lambeth achieved excellent results with key outcomes including:
100% of services engaged displaying LGBT Foundation resources and promoting local social prescribing options such as CliniQ.
70% of trained practices have introduced sexual orientation monitoring and/or trans status monitoring.
100% of trained practices now follow best practice guidelines based on HIV prevalence, and offer up to date prevention advice, including PEP and PrEP.
99% of trained professionals report feeling more confident when working with LGBT patients.
100% of awarded practices now comply with the NHS information standard on Sexual Orientation Monitoring.
100% of awarded practices have processes in place to ensure appropriate national screening programme invitations.
2020/21 programme
Lambeth are funding a bespoke package for a further year offering all practices and pharmacies in Lambeth the opportunity to access training (including remote support), resources and a dedicated service account manager. This includes an award plaque, rainbow lanyards and on-going support for the whole practice team. Training and accreditation is fully funded and providers have the opportunity to achieve a Gold, Silver or Bronze award.
More information
Please contact PIP@LGBT.Foundation to sign up now.