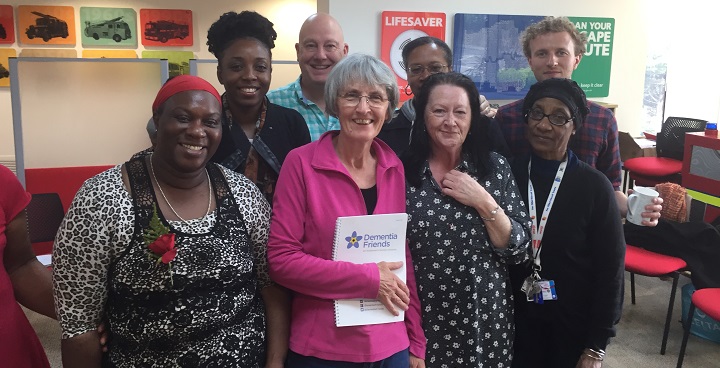 Want to:
be healthier, happier and live longer?
make a difference in your local community?
learn new skills?
Then train as a community connector with Project Smith.
Project Smith
Project Smith works to connect local neighbourhood forums, community networks and grassroots neighbourhood organisations with each other and to health services. It is funded by NHS Lambeth CCG and Lambeth Council, and supported by Healthwatch Lambeth.
Aims and objectives
Project Smith supports people to manage their own health and wellbeing (or condition) with access to information and assistance, and helps people (especially those living independently) avoid crisis, or minimise it. Community Connectors signpost people to local services and organisations to improve their wellbeing.
Community Connectors say
"Community connecting has given me the knowledge and confidence to build relationships and promote health & wellbeing within the community" – Dena, Community connector, mentor and community activist, SW9
"I have learned so much through the connectors programme that I feel like a walking/talking community notice board," – Charlotte, connector who helps run Loughborough Farm Café.
What's in it for you?
Studies show that lending a hand can:
Increase your sense of purpose
Lower your blood pressure
Reduce depression and anxiety
Improve your social life
Help relieve chronic pain
And connectors can earn a qualification – Level 2 in Supporting Behaviour Change accredited by the Royal Society of Public Health.
 Continuing training
After the original training, Community Connectors meet monthly for supervision sessions. This involves going on a 'safari' to a local organisation and learning about their services (see photo above of Community Connector safari on 23 April at West Norwood Fire Station. Cllr Jackie Meldrum delivered a Dementia Friends session).
Who can apply?
The programme is open to people aged 18 and over who live in Lambeth and are already working unpaid in their local community.
Dates for the next community connectors Training Course
Day 1 – 30 May 2018  About the programme, how you could be a community connector and what services are available.
Days 2 and 3 – 13 and 14 June 2018 Wellbeing, health and behaviour change.  At the end of day three comes your opportunity to gain the Supporting Behaviour Change qualification.
Day 4 –  3 July 2018 The final day is about putting things into practice and fitting being a community connector into your life.
The training sessions are 9.30am – 3pm at venues across Lambeth
---
More information
To find out more about Project Smith and community connectors please email Dave Goslyn or telephone 07540 095696