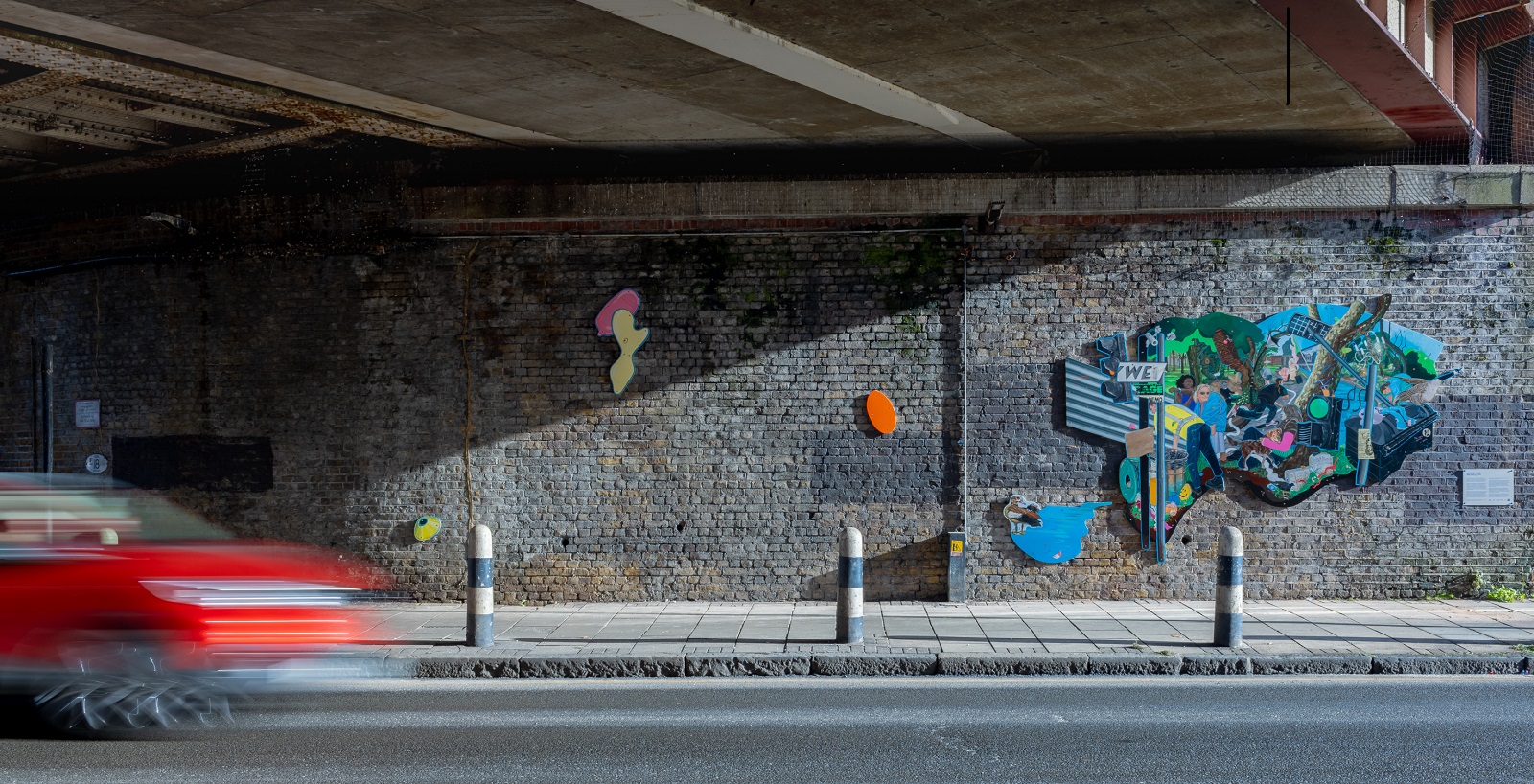 Over the past three years, artist Flo Brooks spent time talking to Clapham residents and Clapham Common historians and photographers and researching at Lambeth Archives, The Lesbian and Gay Newsmedia Archive (LAGNA), The Hall Carpenter Archives and the Digital Transgender Archive.
Threads
 Research fed into the artist's first permanent public work, a large-scale painting in Clapham titled Inner Bark Out, exploring the many threads that make Clapham Common unique. Painted on aluminium panels, Inner Bark Out celebrates fifty years of reasons for visiting the Common. The title refers to Pattiann Rogers' 1987 poem The Laying-On of Hands, exploring how touch helps make truth visible.
 50 years of history
Brooks' artwork references Clapham's heritage sites including Holy Trinity Church, 'the Cock Pond' and Temperance Fountain, while CCTV cameras, drones and signage suggest how public space is regulated. The painting features visual clues of the Common's LGBTQIA+ and feminist histories including The Women's Peace Camp protesting nuclear weapons in 1983 and Pride in 1997, plus fragments of placards representing protests, gatherings and vigils in the area – individual and collective experiences that have shaped Clapham Common.
Word from the Cabinet
Cllr Donatus Anyanwu, Lambeth Cabinet Member for Stronger Communities, Leisure and Sport said: "This is a public celebration of the history, environment and diversity of Clapham Common and the love people feel for Lambeth and its green spaces. We're looking forward to seeing how the Clapham Public Realm Programme progresses in the future."
Supporters
 The commission forms part of Clapham Public Realm Programme produced by Studio Voltaire in partnership with This is Clapham BID. Lambeth Council funding supports the project alongside This is Clapham BID and Arts Council England, with additional thanks to Network Rail.
More information 
Visit the artwork – Launched on 25 January 2023, the work is mounted on a bridge underpass on Bedford Road in Clapham North SW4 7EF. The closest stations are Clapham North (2 minutes) and Clapham High Street Overground (4 minutes).
Flo Brooks (b. 1987, UK) is a Cornwall-based artist. He works across painting, collage, publication, installation and social practice, often working in archives as a starting point for new work. A major solo exhibition at Spike Island in Bristol will open in June 2023.
Photos: Flo Brooks, Inner Bark Out, 2023, Commissioned and produced by Studio Voltaire, Permanent Installation, Bedford Road, SW4, Images courtesy of the artist and Studio Voltaire, Photo Benedict Johnson