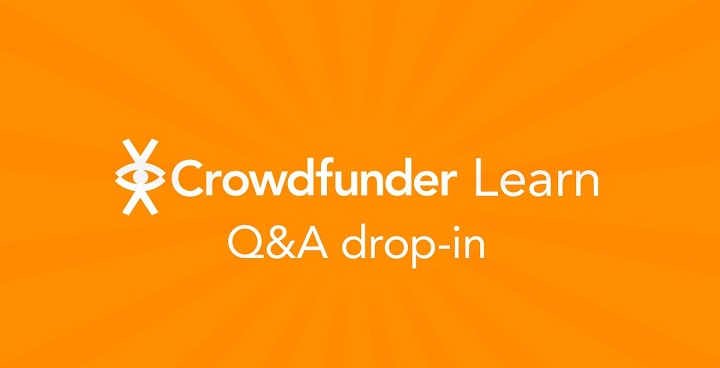 The Crowdfunder team runs regular drop-in sessions, suitable for anyone who wants to find out more about this method of fundraising. Whether you're just starting to think about a campaign or it's already up and running, this is the place to get answers to your questions.
Live and interactive
Hosted by one of the Crowdfunder team, Q&A sessions are live and interactive. Participants are able to ask questions either on-screen or via the chat box, as well as having the opportunity for peer-to-peer learning from other crowdfunder projects. On Tuesday 14 February the host is the Partner Delivery Manager for Crowdfund Lambeth and other locations.
Any questions?
This is a great opportunity to ask any questions about funding opportunities as well as general Crowdfunding queries. Unlike our monthly webinars, there is no set agenda for our drop-in sessions. It really is a chance to ask about anything to do with crowdfunding – be it specific to your project or you just want to know more about what's involved in running a crowdfunding campaign.
Online drop-in
To get the best out of the live session, we encourage participants to complete our free online learning course before the drop-in. Designed to ensure your project has the very best chance of success, the course is the latest piece of educational development released by Crowdfunder and is split into four short modules – Introduction, Planning, Creating and Running. It's super easy to use and registering once provides flexible access to suit your own time constraints. You can access the modules online.
Monthly webinars
If you haven't attended one of the monthly Crowdfunder Learn webinars, you can watch a recording here: Introduction to crowdfunding webinar
Booking
This event is online only and a link to the live session will be emailed to 24 hours prior to the event. Book via Eventbrite
A webcam and microphone are not required to join the session, unless you'd like to ask a question on camera. All participants are welcome to comment in the chat box if this is how they'd like to be involved.