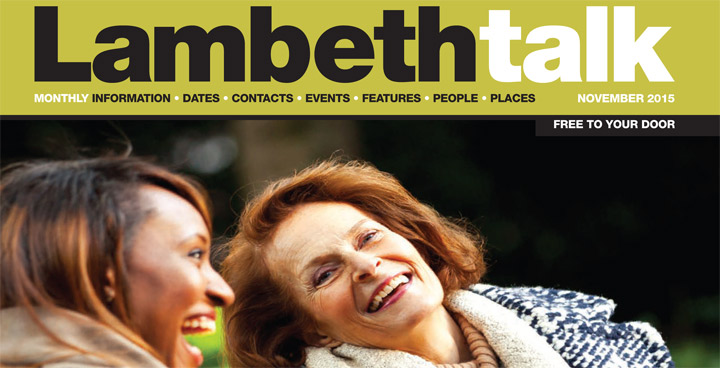 There are lots of great things planned for Vauxhall and on pages 6 and 7 we take you through some of these and provide you with a preview of how it may look.
On page 8, find out how Lambeth is gearing up to introduce its first borough wide 20mph speed limit at the end of March 2016.
In September we held the Lambeth Community Awards, which saw seven local people and groups win awards for their positive contribution to community. Meet the winners and find why you voted for them on pages 10 and 11.
As the days and nights draw in and we wave farewell to the warmer weather we bring you some tips and advice to help you keep warm and well during the winter. See page 13.
The Royal Vauxhall Tavern was recently granted a Grade II listing. Read all about it on page 16.
In our regular what's on guide, pages 18 and 19, we have feasts, festivals, fireworks, volunteering and even a London Santa Dash. Plus more.
Download Lambeth talk November 2015.
Have an idea for Lambeth talk?
If you have something you want to tell residents and local businesses about or if you know of someone, a project or organisation in the borough that you think would be great to feature in Lambeth talk let us know.
Email lambethtalk@lambeth.gov.uk or leave a comment below.