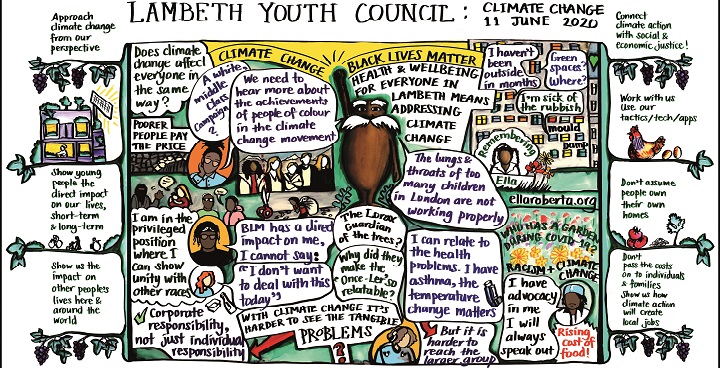 The new Lambeth Talk magazine brings you news and updates from Lambeth Council and the community. The front cover picture comes from last Spring's youth workshops on problems like climate change and racism.
News and updates include:
Ruth Hutt, Lambeth's Director of Public Health thanks home-schoolers, volunteers, frontline workers and everyone in Lambeth who's staying at home to prevent the spread of Covid-19 while vaccination continues to give us hope for a way out.
News on the virtual Lambeth Country Show, plans for the sites of International House and Pop Brixton, your chance to have your say on planned changes to Lambeth's electoral ward boundaries, and the Council's agreed budget including incentives for Council Tax.
Covid-19 vaccination: Richard from Lambeth Learning Disability Assembly recommends "Think about what you love in life" and see the vaccination as a road back to it.
Lambeth's campaign to end digital exclusion – where and how you can donate used smartphones, tablets and laptops, when schools and voluntary organisations can appeal for help, and Impact Urban Health's promise to match the value of donations.
Government 'Greener Homes' grants to help homes cut both energy bills and the C02 they put into the air and Citizens Assembly on tackling the climate crisis.
Early Learning support offering parents free childcare so they can work or study.
Holiday activities and healthy eating when school meals are unavailable for Easter.
London's Mayor – elections coming in May.
National Census 2021 – this month.
Covid-19 updates – vaccination and self-isolating.
London's Metro University asks Lambeth's LGBTQ+ people to take part in a survey about Covid-19 and its impact on the community.
New repairs team creating jobs for local people to work on Lambeth housing estates.
Get your copy of Lambeth Talk
The new Lambeth Talk will be distributed free by post to every household and business in the borough, with deliveries starting on 10 March.
Or you can read it online or download it.