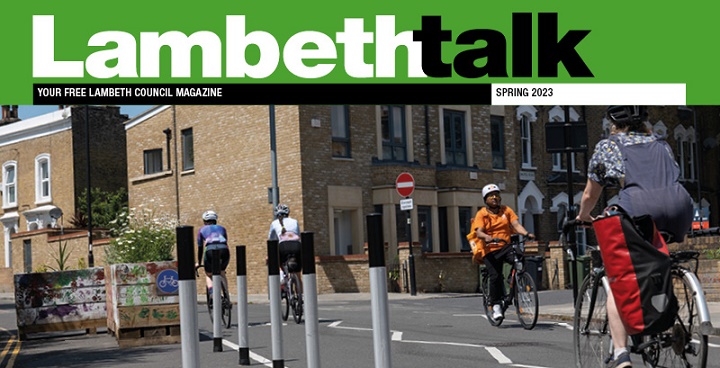 Your new 24-page Lambeth Talk magazine for Spring 2023 features news and updates from Lambeth Council and the community.
Your news and features include:
Letter from Cllr Claire Holland, Leader of Lambeth Council, announcing a new budget to support people most in need in the cost of living crisis and the benefits available to people from the changes in Lambeth Leisure Centre management.
News pages including agreement on Lambeth's new Air Quality Action Plan and tree planting strategy for environmental improvements, and Lambeth Country Show.
Feature on the "Big Shift" to active transport in Lambeth including cycling training, affordable bicycle offers and more.
Voter ID for local, mayoral and general elections.
Lambeth's Leisure Centres and offers available for everyone in Lambeth as a result of management returning to council control.
"Bee Roads" replacing roadside turf with wildlife-friendly wildflower planting, plus how Lambeth is ending the use of glyphosate weedkiller.
 Job opportunities to direct young people away from the risk of gangs and violence.
Book now Lambeth Libraries' Readers and Writers month-long festival.
Get your copy of Lambeth Talk
Your new Lambeth Talk will be distributed free by post to every household and business in the borough, with deliveries starting in mid-April.
Or you can read/download it from Lambeth's website