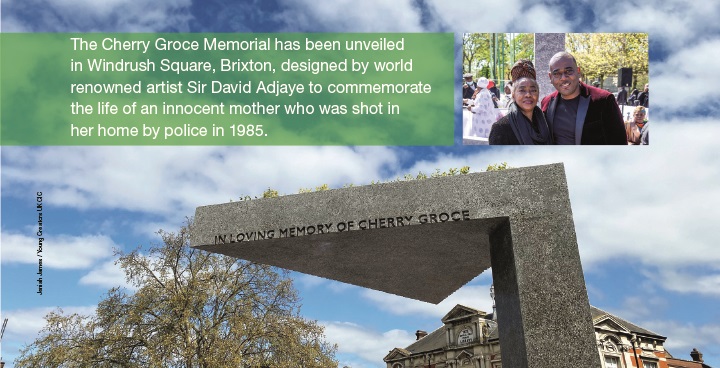 The latest Lambeth Talk brings you news and updates from Lambeth Council and the community. Front cover photo by Jeniah James shows the Cherry Groce Memorial being officially unveiled in Brixton's Windrush Square.
News and updates include
The Cherry Groce Memorial, with Lambeth Council working alongside award-winning sculptor Sir David Adjaye, the Groce family, and Lee Lawrence who campaigned for his mother – whose shooting by the police sparked 1985's anti-racist uprising – never to be forgotten.
I am HERE – invitation to be part of this June's Lambeth Windrush Day events to celebrate and commemorate the Windrush Generation and their role in Lambeth's culture and society
An interview with newly sworn-in Mayor of Lambeth, Councillor Annie Gallop, about her experience as a pub landlady, Lambeth housing estate community garden creator, cancer survivor, and volunteer at the Ebony Horse Club, and her support for green initiatives and residents working to overcome adversity.
A message of thanks from Cllr Jack Hopkins, Leader of Lambeth Council, for the solidarity and community spirit of tens of thousands of people who came forward for two weeks of enhanced Covid-19 testing to check for cases of the South African Variant.
Young south Londoners (including a vaccine centre volunteer) discuss the need for the community to educate others to dispel myths about the Covid vaccines.
A reminder to local business to follow Covid-19 restrictions as they reopen. Lambeth Council has already taken firm action on persistent rule-breakers such as warning letters and fixed penalty notices.
Citizens' assembly on the climate crisis – residents will develop recommendations for Lambeth to reduce carbon emissions to net zero by 2030.
Lambeth's Economic Resilience Fund – By the end of 2021, 650 local businesses severely impacted by the pandemic will have received grants totalling £6.1 million.
Somos Lambeth – working with schools to support Portuguese-speaking pupils with inspiration events, and planning for summer's Portugal Day.
Empty, Rinse, Reycle, Repeat – advice from Veolia on stopping food from turning your recycling into waste.
Homes for Lambeth update on 110 homes now under construction on Westbury, Knights Walk and South Lambeth estates.
Busting the myths about fostering.
Get your copy of Lambeth Talk
Your new Lambeth Talk will be distributed free by post to every household and business in the borough, with deliveries starting on 10 May.
Or you can read it online or download it.