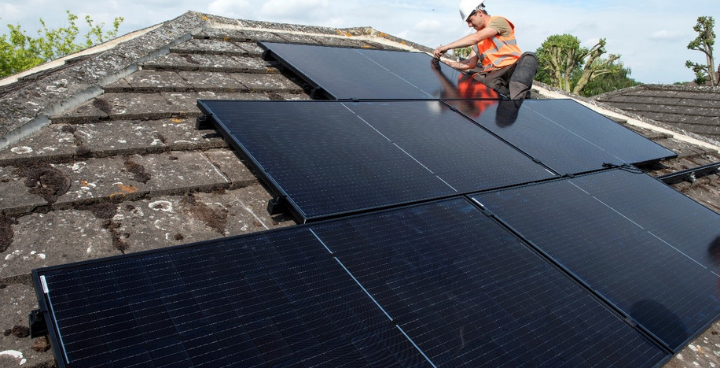 Solar Together Lambeth will give Lambeth's homeowners and business property owners confidence that they are paying the right price for high-quality solar panel installation from trusted installers, boosting local renewable energy generation. With gas prices rising, generating energy from the sun can be a cheaper and cleaner alternative.
Electricity and gas use in our homes is the largest source of greenhouse gas emissions in Lambeth, so it's vital we reduce these to reach our commitment to becoming a net-zero borough. Solar Together, an innovative "group-buying scheme", follows other highly successful schemes run across the country in the past few years, which have delivered over 3,700 installations and an impressive 61,000 tonnes of avoided lifetime carbon emissions.
From 7th February 2022, Lambeth residents can join Solar Together Lambeth, the solar photovoltaic (PV) and battery storage group-buying scheme.  It is free to register, and there is no obligation to proceed to installation. The London Mayor has partnered with Councils and independent experts in group-buying, iChoosr Ltd, to introduce the scheme.
You can register today at solartogether.co.uk/Lambeth!
Lambeth Council leader Cllr Claire Holland said: "Installing solar panels is a great way to save money on energy bills, which is more important than ever. Lambeth has declared a climate emergency, and is committed to supporting residents to reduce emissions and the way we heat and power our homes is often the root of most of our emissions. We know that our residents are passionate about reducing emissions with our recent Citizens' Assembly calling on the borough to immediately start the switch to renewables therefore this scheme is a great opportunity for individual households to make the switch."
iChoosr has a track record of delivering group-buying schemes for local authorities across the UK, Netherlands, Belgium, Japan and the US. It has worked with 160 UK local authorities on its collective energy switching schemes since 2012 and in 2015, they initiated their group-buying for solar PV systems.
Marie-Louise Abretti, iChoosr UK (Solar Together) Business Manager, said: "For Lambeth's residents looking for opportunities to reduce their carbon emissions and save on energy bills, the Solar Together group-buying scheme offers a straightforward way to make an informed decision and access a competitive offer from a trusted provider."
Who is eligible?  
All Lambeth residents who own their own house (or have permission from the landlord to install a solar PV system). Small and medium-sized enterprises (non-domestic) and Commonhold Associations meeting this requirement can participate as well.
How does it work?
Register before 15th March 2022 for free and without obligation at solartogether.co.uk/Lambeth. Simply provide details about your roof, such as its size and orientation.
Auction held on 15th March where pre-vetted solar installers will submit bids. The more people that register, the better the deal should be for each household. The installer with the most competitive package will win the auction.
Receive personal recommendation from 4th April. You will be emailed your personal recommendation based on your registration details. This includes your costs and specifications of your system.
Decide whether you want to accept your recommendation. There is no obligation to continue. You will have until 13th May to decide and will be invited to an information session.
Accept installation and the winning installer will contact you to survey your roof and set an installation date. All installations are planned to be completed by the end of October 2022.
Helpdesk support
Telephone and email support are on-hand throughout the whole process, which, together with information sessions, will allow households to make an informed decision in a safe and hassle-free environment. Call 0800 060 8509.