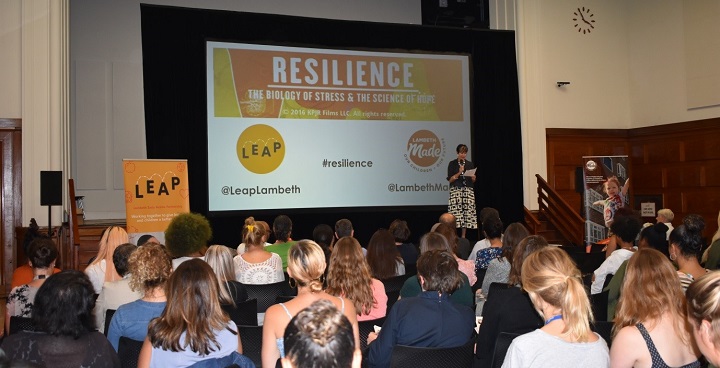 Lambeth Made is a new project run by Lambeth Council and NHS Lambeth CCG that aims to bring together businesses, families, health and care professionals throughout the borough to support children and young people growing up in Lambeth.
The event, which was attended by representatives from health, social care, schools, early years, police, housing and the voluntary and community sector (VCS), featured the award-winning documentary film Resilience as well as a panel discussion afterwards. The audience was introduced to the concept of ACEs, including the central idea that although the child may not recall an adverse experience, their body does retain the effects. Toxic stress can trigger hormones that adversely affect the brains and bodies of children, putting them at a greater risk for disease, such as heart disease, obesity and diabetes as well as mental health problems, homelessness, prison and early death.
Word from the Cabinet
The event was opened by Cllr Jennifer Brathwaite, Deputy Leader of Lambeth Council (Children and Young People) who said: "The way we treat children has a direct impact on their life outcomes. This event has shown us that we are all responsible for shaping the future health and wellbeing of Lambeth's future generation."
Laura McFarlane, Director of Lambeth Early Action Partnership said "We want to make Lambeth one of the best places in the world to grow up. By sharing this ground breaking film with professionals we will help transform the way services work, understand with great clarity how trauma affects a child's life and what we can do about it"
Cutting-edge science
Resilience chronicles trailblazers in paediatrics, education and social welfare who are using cutting-edge science and field-tested therapies to protect children from the insidious effects of toxic stress.
The screening was followed by a Q&A with a panel of distinguished experts who shared their insight and reflections on ACEs and how we can best support children, young people and families in Lambeth. This lead to a lively debate about its applicability to the Lambeth context and whether and how it should inform our work.
This piece of work is just the start of the Lambeth Made campaign which aims to put families at the centre of a more integrated network of services, with the council, health service, schools, voluntary organisations and police working together to give children the best possible start in life.