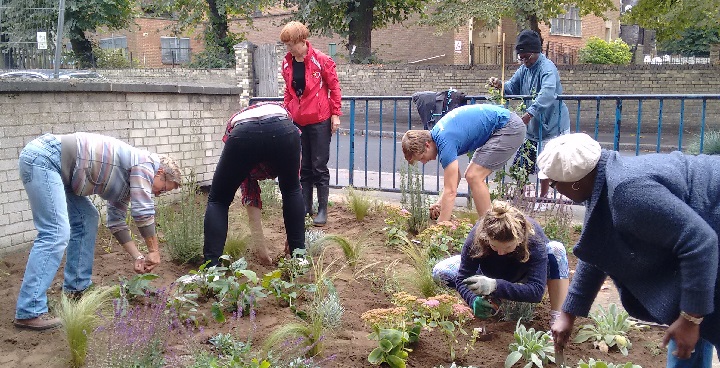 Rain gardens are free-draining gardens with rainwater diverted into them from the building – soaking into the ground rather than running off the roof. This water is captured and used by plants, rather than cascading off rooftops and roads into the nearest drain as it does so much now. This helps to reduce local flood risk by taking pressure away from the Victorian sewers that can flood in heavy rainfall – like we saw in the centre of Herne Hill just over 10 years ago – and improves areas for people and wildlife at the same time.
Why are we making rain gardens?
It's all part of the Lost Effra Project, a collaboration between London Wildlife Trust and Lambeth Council's Flood Team with support from Thames Water. Since 2014 we've been working on Lambeth's estates along the former course of the lost River Effra – this defines areas of the borough at higher risk of flooding.
Where are the rain gardens in Lambeth?
The project has:
Worked with residents from Cressingham Gardens to create a beautiful 30 metre long garden;
Removed tarmac to create a 330 square metre community garden behind 1-7 Southwell Road with a green roof on the garage, rainwater harvesting and green borders around the whole building
'Depaved' six areas around Oborne Close to create colourful, wildlife-rich gardens for residents' enjoyment
Swapped concrete paving slabs for wildlife-friendly planting to give Calidore Close a front garden (see photo)
Latest rain garden
At Heron Court we dug two new rain gardens for planting up on Sunday 7 May, along with replanting the area behind them that has been slowly lost over the years. London Wildlife Trust and residents from the estate are working together  – really making a splash of colour and life on Lambeth's estates whilst making the area flood-proof!
Finding new garden sites
If you live on an estate or road close to where the Effra flowed and have an idea of a place to dig a rain garden, build a green roof or swap paving for plants then please get in touch!
Check out our Wild London website for more information or email Helen at hspring@wildlondon.org.uk.