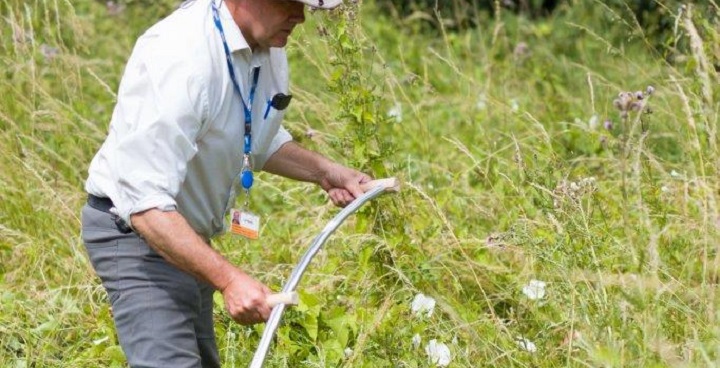 The Friends of Ruskin Park called for volunteers, from the community and local businesses, to work on improving the wildlife garden – now everyone can see the difference they have made.
Wildlife Garden
The original orchard maze had become waterlogged – probably from natural springs in the park – and thorns also made the maze impossible to navigate. Relocating fruit trees and bushes to the edge of the garden and around the  path, laying the dense hedge separating the area from the main park with saws and billhooks, and cutting the grass with scythes, gave the Friends a chance to learn traditional skills and opened up the space and views into and out of the  area.
Magical place
Now the wildlife garden is teeming with frogs, butterflies, moths and dragonflies and looks like a really magical place. Community volunteers painted and sealed new benches, creating an outside classroom space already being used for visits by local primary schools. Funding came from the Mayor of London's Greener City Fund. Later this year, two new entrance gates and a new pond-dipping platform will be installed, and new wildlife habitats for insects, reptiles and amphibians will be created, which will provide natural play and learning spaces and also help alleviate surface water flooding.
Community Garden
There has also been a boost to volunteering at the adjacent Ruskin Park Community Garden, a free food growing space for the local community. Volunteering sessions at both gardens take place on the first and third Saturday of every month.
Ruskin lived here
As part of September's Lambeth Heritage Festival the Friends of Ruskin Park are organising two history walks and talks – and an exhibition of heritage materials at the nearby Carnegie Library – to mark the bicentenary of John Ruskin, the writer and artist who  lived nearby.
Partnership in green
London in Bloom judges visited the Ruskin Park Wildlife Garden and Community Garden on their tour of the borough in July, and Lambeth's Parks and Landscapes team feel confident it's demonstrated to the judges a great example of what the community and council have done together to make Lambeth's green spaces even better for everybody.
More information