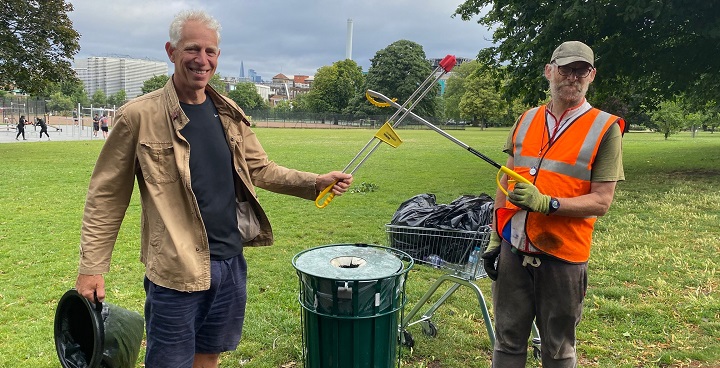 We all hate litter – but Lambeth volunteers prove picking it up is good for you and for the community. Some collect litter in company, some individually. The Friends of Ruskin Park supports them all. They're not doing Lambeth's jobs, they work alongside Lambeth Landscapes staff and together make the park even better.
Have a go
Volunteer Rupert (pictured with volunteer Andrew) says: "There's 50% more litter for Lambeth to clear during lockdown. I used to get angry about litter in Ruskin Park and it was doing my head in. You pay your taxes and expect a service. Then I thought, instead of ranting at Lambeth who are underfunded and under siege, get a pair of pickers and a hoop and have a go.
Deep clean Wednesdays
"Doing the work yourself is giving something back, and it is humbling in a satisfying way. Picking up litter turns out to be fun and the dog gets more time in the park. There are several of us now – people see us doing it and take more care of the park themselves. Most mornings I pick the verges, bushes and fields. Andrew tackles the overflowing bins, with a useful supply of abandoned shopping trolleys to carry it. On Wednesdays at 10 am a group of Friends of Ruskin Park volunteers do a deep clean. Our park keeper, Tim, pitches in too, although we'd all rather he was gardening!
Take it home
"I still get angry, but now it's about single use plastic. Sometimes I pick up the same piece five times after the foxes and the crows. People put their rubbish in bags but it doesn't stay long unless they're in fox-proof bins. I wish people would take their rubbish home –  it must be lighter than when they brought it to the park."
More information
Follow the Friends of Ruskin Park on Twitter @RuskinParkSE5 and Facebook
Lambeth Landscapes Parks Team report they collected 135.74 tonnes of waste – a over 90% increase over June 2019. Covid19 restrictions made it impossible to bring in the agency help we usually have in summer.
Litter risks include:

Leftover food attracts vermin and Lambeth having to break our environmental promise to minimise our use of chemicals.
Plastic six pack rings can strangle pets and endangered animals.
Litter encourages illegal fly-tipping.