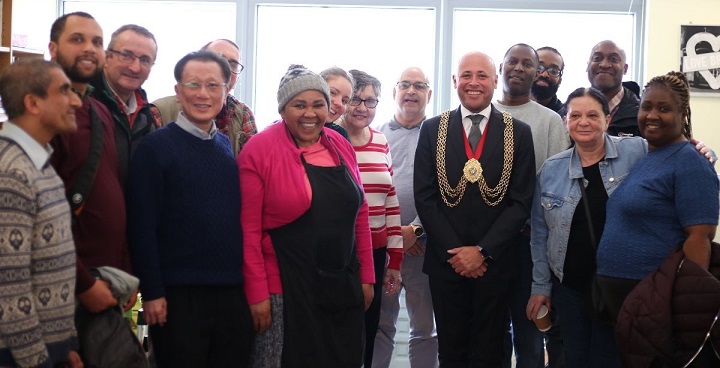 The Sanctuary at Mosaic Clubhouse offers a safe and supportive out of-hours space for Lambeth adults (18+) experiencing a mental health crisis. The Sanctuary now opens its doors seven nights per week instead of the previous five.
Outside the 9 to 5
Evenings can be difficult times for people with mental health conditions as there is limited access to services outside 9-5 working hours. The Sanctuary is a short-term service helping people to cope when things are at their worst. The Evening Sanctuary is now open EVERY day from 6pm to 2am.
Be themselves
The Sanctuary isn't a clinical environment, but our trained and experienced staff, peer support workers and volunteers provide a place where people can be themselves without feeling judged. Some come to talk to others, some for peace and quiet, and some for a few hours of volunteering or activities to take their minds off things.
Evening activities
From 6 – 8pm there are groups and workshops including Jewellery Making, Art, Creative Writing, Mindfulness and Yoga, exercise classes, videos, DVD and music, or relax in our quiet space. Anybody staying on after 8pm needs a referral from a health care professional. People can be referred anytime until midnight and we can arrange transport to the Sanctuary and home if needed.
Mayor's charity 
One of the Clubhouse's most outspoken champions is Cllr Chris Wellbelove, who made it the Mayor's Charity for his year in office: "I've been very proud to have Mosaic Clubhouse as my charity this year.The work they do is so invaluable and the difference they make is helping so many and also saving lives. Sadly it seems more than ever organisations like Mosaic Clubhouse are needed. I just thank God they are there for everyone who needs them.  In return, Mosaic Clubhouse thanked the Mayor on his last event with them for "his inspiring honesty in talking about mental health."
For more information
The Sanctuary is staffed by Mosaic Support Workers, Peer Supporters from Solidarity in a Crisis and Mosaic Clubhouse Members. It is part of a range of developments backed by Lambeth Council to support people in crisis.
For information, including details of making a referral, see Mosaic Clubhouse evening sanctuary's information pages.