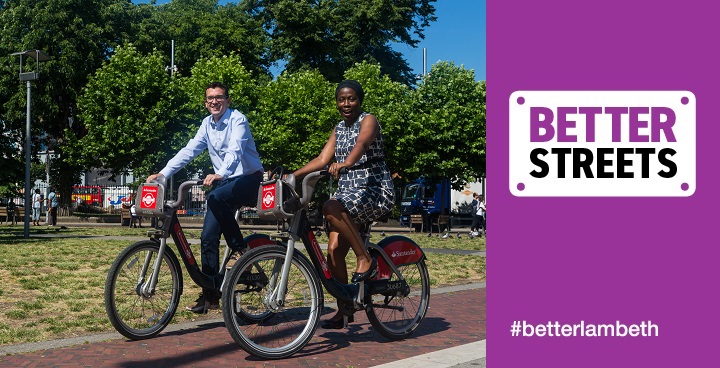 The arrival of the bikes will make cycling around the borough, and London, easier for local residents who will be able to hire a bike for as little as £2 a day.
Lambeth Council has worked closely with Transport for London (TfL) to bring cycle hire to Brixton for the first time.
Word from the Cabinet
Cllr Jennifer Brathwaite, Lambeth Cabinet Member for Environment & Housing, said: "I'm delighted that Santander Cycles are finally here in Brixton.  This is something we've been working on for a long time with TfL as we continue to make it as easy as possible to cycle around Lambeth.
"The borough is fast becoming the most cycle-friendly in London and this is another way people can start travelling more 'actively', improving health and wellbeing, and contributing to cleaner air – something we're particularly passionate about.
"We are proud to have a Low Emission Bus Zone in Brixton and Streatham now, helping to reduce pollution around the main roads and Lambeth also provides cycle training, has a great and improving network of safe cycling routes, a free try before you bike scheme and hundreds of cycle hangers to help with bike storage. We will continue to campaign for similar cycle hire options further south in the borough so that even more residents can benefit."
Locations
The new Santander Cycle docking stations around Brixton are located on:
St. John's Crescent, Brixton
Ferndale Road, Brixton
Saltoun Road, Brixton
Cranmer Road, Stockwell
Normandy Road, Stockwell
Wynne Road, Stockwell
Sidney Road, Stockwell
'Explore all that Lambeth has to offer'
David Eddington, TfL's Head of Cycle Hire, said: "It has been fantastic to partner with Lambeth Council to bring our newly designed Santander Cycles to Brixton as we want to encourage more Londoners to cycle to improve health, productivity and air quality. We hope that the extension encourages more people to take to two wheels and to explore all that Lambeth has to offer."
The new Santander Cycles offer riders improved handling, visibility and comfort, with a new gel saddle, lower frame, tyres with puncture prevention, new gear hub and improved front and rear Blaze lighting.
The scheme is already one of the one of the largest and most popular cycle hire schemes in Europe and this expansion builds on another record-breaking year, which saw 10.4m hires in 2017 – 1.4 per cent up on 2016.
To find your nearest Santander Cycles docking station, visit tfl.gov.uk/santandercycles or download the app from iTunes and Android App Stores.