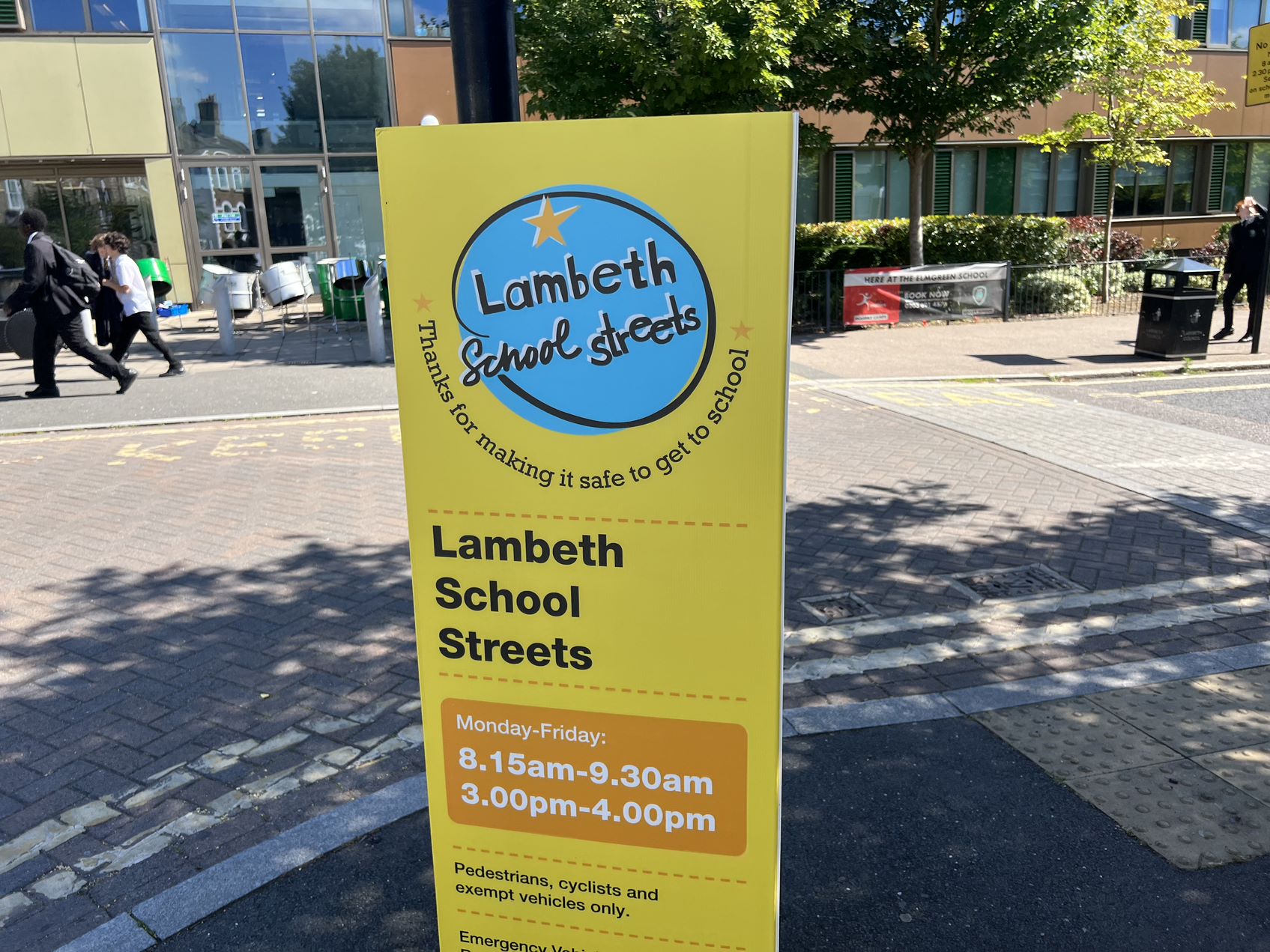 The School Streets schemes prevent vehicles from using the streets in the immediate vicinity of schools during the busiest times in the day when traffic congestion is at its worst.
Parents are encouraged to leave their cars at home and find new routes to and from school such as walking, cycling, or scooting, to end the traffic gridlock outside the school gates.
It is the latest measure put forward by Lambeth Council to reduce road danger, improve air quality and encourage more sustainable forms of travel across the borough.
Cllr Rezina Chowdhury, cabinet member for Sustainable Lambeth and Clean Air, said: "The streets around some of our local schools have been clogged up by traffic at the busiest times for far too long.
"Parents and children have had to risk exposure to road danger or breathing toxic air just to get to and from school every day, which is clearly unacceptable.
"Since launching the School Streets in 2020 we have been in regular contact with schools, parents and local residents to ensure we find the right balance between achieving our aims of safer streets and cleaner air, while responding to ongoing feedback.
"These conversations will continue as we explore other ways to protect children and other vulnerable people from the health risks of poor air quality and the challenges of a changing climate."
The council agreed that 18 School Streets that were introduced as trials in June last year will now become permanent.
Lambeth Council has revoked one School Street scheme in Cotherstone Road, Brixton Hill, after listening to public feedback.
It takes the overall total of School Streets to 26, including two schemes that are already permanent and 4 experimental trials.
Residents who live within a School Street can apply for a digital exemption permit for nominated vehicles always allowing them access to the zone during the restricted times. There are also exemptions in place for Blue Badge holders.
The existing schemes use a mix of physical measures, such as temporary barriers, and signage and Automatic Number Plate Recognition cameras (ANPR) to enforce the traffic ban at certain times of the day.
Those who ignore the restrictions are at risk of being issued with a Penalty Charge Notice (PCN).
Lambeth Council has recently announced a total £16.6million investment in local transport infrastructure and encouraging more sustainable travel routes such as walking, cycling and scooting.
This investment will support Lambeth to implement a further 32 School Streets, ensuring that there is a School Street at every school where it is suitable.
The council has also pledged £1.7million through its Big Shift programme to encourage residents to leave their cars at home wherever possible.
The Lambeth Climate Action Plan also sets a goal of reducing vehicle journeys by 27 percent by 2030 in order to reduce the pollution caused by emissions.
Cllr Chowdhury added: "Lambeth has one of the lowest car ownership rates in London, while also suffering from unacceptable pollution levels and high volumes of traffic.
"Our investment in a more sustainable local transport network shows how seriously we are taking these issues and how we can continue to tackle the climate crisis at a local level.
"School Streets mean parents, children, and school staff can feel safe and confident at the start and end of the school day, without having to run the daily gauntlet of exposure to road danger and air pollution caused by traffic congestion."