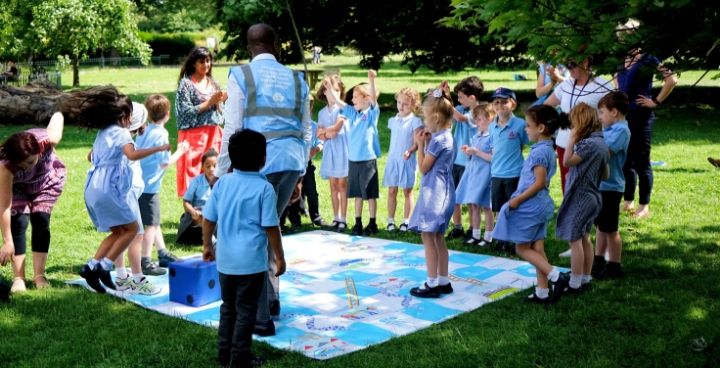 Lambeth Council has been running a series of successful anti-idling events across the borough, to raise awareness of air pollution and encourage people to turn off their engine when stationary. So far 10 schools and 270 children have been involved and more schools will be involved throughout the year.
Educating the next generation
During the anti-idling events, the impacts of idling were discussed and children learnt about how to reduce air pollution by playing a giant snakes and ladders game. The children also learnt about clean air, climate change and sustainable modes of transport. At pick-up time, Sustainability officers and school staff talk to parents about clean air and encourage them to switch off their engines when stationary.
Thank you to those involved
We would like to thank the following schools for participating in our anti-idling events: Jessop Primary School, St John Angell Primary School, Woodmansterne Primary School, St Bede's Catholic Infant and Nursery School, Christ Church Streatham Primary School, Loughborough Academy, Sudbourne Primary School, Bonneville Primary School, Crown Lane Primary School, Rosemead Preparatory School, Iqra Primary School.
Hitherfield Primary School and Children's Centre
Hitherfield Primary School went above and beyond in the fight for clean air! After working on an Air Quality monitoring project with the charity Sustrans, the school found that air pollution in and around its premises was high, despite being within permitted limits. This inspired the school Eco-Ambassadors to write various letters to Sadiq Khan and…they received a response!
In his letter, the Mayor mentioned the actions that he has been delivering to tackle clean air in London, among which: introducing the ULEZ, upgrading buses to low emissions standards, planting trees, putting in place safe cycling and walking routes. He thanked the children for taking the time to write to him, as their letters inspired him and his team to work harder to tackle clean air in London.
Word from the School
Yvonne Morris, from Hitherfield Primary, said
"we take air quality very seriously in our school, as we want to provide the best environment we can for our children inside and outside the school. Before we started the project [with Sustrans], we didn't really know much about nitrogen dioxide, the fact that it might travel into buildings and how harmful that could be".
Well done to the Eco-Ambassadors of Hitherfield Primary, for inspiring our leaders to work harder to fight air pollution in London!
---
Over to you
Is your school concerned about air pollution? We want to organise more anti-idling events so if you are interested in hosting an anti-idling initiative, or an event to raise awareness of air pollution in your school, please contact sustainability@lambeth.gov.uk
Did you know? We take air quality extremely seriously and we have done huge amounts of work in monitoring and reporting air pollution, raising awareness and mitigating the effects of air pollution. To find out what actions we are delivering, as part of our Air Quality Action Plan 2017-2022, you can check out what we are doing to improve air quality in Lambeth on Love Lambeth.