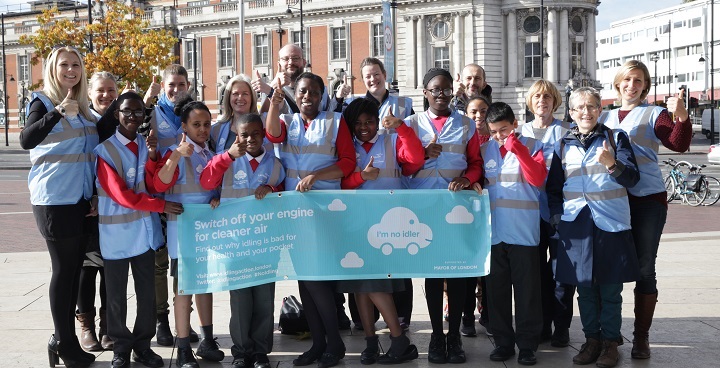 We can only improve Lambeth's air quality by working together to play our part. Residents need to travel more often by public transport, on foot and by bike, businesses need to use clean transport for deliveries and invest in energy-efficient buildings, and as a council we need to lead by example, reducing our own carbon-footprint and helping others to do the same.
What are we doing to tackle air pollution?
Lambeth Council have done huge amounts of work in monitoring and reporting air pollution, raising awareness and knowledge, lobbying for improvements, and putting measures in place to both reduce pollution and mitigate its effects.
The council are well underway implementing various measures, including installing green screens at primary schools in our most polluted areas, piloting a series of road closures around primary schools during drop off and pick up times, working with the Mayor of London to introduce a clean bus corridor in Brixton that came into effect in 2017 and developing bold plans for Brixton town centre to dramatically reduce traffic as part of the Mayor of London's Liveable Neighbourhood programme.
Our programmes include:
Funding for green screens at every Lambeth school on a main road and planting 1,000 more trees by 2022;
We were successful in our multi-million pound bid for a TfL Liveable Neighbourhood grant to improve local neighbourhoods so that they are no longer dominated by car traffic and enable people to travel more safely and actively. This will reduce air pollution and make Brixton a better place to live and work.
Making it easier to cycle by doubling the number of cycle hangar spaces, building a network of Quietway's, protected cycle lanes and a 'Try Before You Bike' scheme which provides bikes at low-cost and commitment.
Supporting the shift to electric vehicles by installing over 200 new electric vehicle charging points, with 140 installed so far;
The introduction of a clean bus corridor through Brixton and Streatham, ensuring all buses comply with strict pollution standards.
We welcomed the introduction of the Mayor's Ultra-Low Emission Zone, which covers the north of the borough, and are campaigning for it to be extended to cover the whole of Lambeth;
We are part of the Idling Action project. Along with 26 other councils we are educating people about dangerous pollution from idling and taking enforcement action to reduce this needless source of pollution.
We are introducing 'school streets', timed closures of roads around schools at pick-up and drop-off times which will improve child safety and reduce traffic emissions.
We have taken part in Mayors school audit programme and are busy delivering the recommendations at Stockwell and St Anne's. Recently we have been working on the GLA's Nursery school audit programme and will continue to work with the nurseries to reduce pollution exposure;
We have launched a school air quality grant scheme for secondary schools that have high pollution exposure, to help them mitigate the effects with measures such as green-screens;
We have an extensive monitoring network to make sure accurate data about air pollution helps us and others to make the case for bold action locally, across London and from central government. We have over 50 diffusion tubes and 3 automatic monitoring stations in Brixton, Streatham and Vauxhall that measure NO2, PM10 and SO2 (Vauxhall).
We are working with TfL to improve traffic flows and reduce pollution
We are working with the Mayor's RE:FIT team to reduce emissions from schools and improve energy efficiency.
To find out more and keep up to date on the latest programmes and opportunities to get involved, sign up to our Climate Action, Cleaner Transport and Sustainability newsletter below.