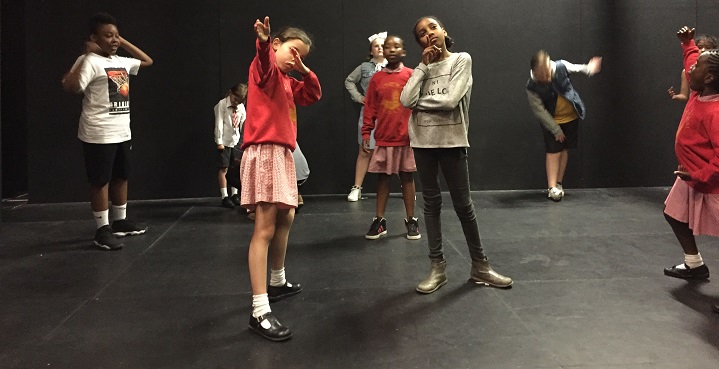 In a …secret location deep inside the tunnels of Waterloo railway station, a bunch of talented children read for the first time the script for their upcoming performance.
Surprisingly confident, they seem to get into the spirit of their roles from the very first line. The workshop leaders give them a printed form to fill it in to help them identify their characters and work on their outstanding elements. After that, the actors are divided in smaller groups and start working together, scene by scene.
Everything looks so professional and the children are really engaged –nothing less than a proper first reading rehearsal of a theatre group. 'The Emperor's New Clothes' will soon come on stage and Love Lambeth  will be there for the applause.
The community youth theatre was set up by Lambeth resident Anna Glarin, a theatre practitioner and drama facilitator. They offer affordable weekly drama workshops for 8-14 year olds and are currently oversubscribed, confirming Anna's hunch that this was greatly needed in the area.
Anna says:
'We make theatre with, for and about young people. Mostly we focus on devised work but as the young people were so keen on working on an existing play we are doing this to satisfy that need. Our next project will be more about issues that are relevant to the young people in the group'.
Anna, together with co-director and fellow Lambeth resident Mark Johnson and a team of volunteers, is leading the sessions that are now happening in this well hidden theatre stage of Network theatre, every Tuesday 4:30-6pm. They all give their time free of charge, all bringing their own particular skill and adding value to the project.
Waterloo Community theatre CIC were shortlisted for Community Pride award for Innovation and Enterprise in 2016 –a well-deserved distinction.
Role playing games and, much more than this, acting as a member of a theatre group, can increase self-confidence, help children improve their presentation skills useful in professional life, open up their minds to new things and knowledge through the study of important plays. Waterloo Community theatre to expand next year with a group of secondary school aged young people.
Contact: info@waterloocommunitytheatre.co.uk