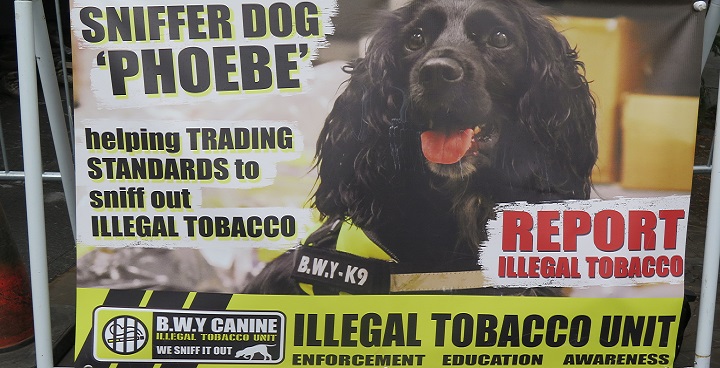 Sniffer dogs are out on the street in Brixton today, showing off their skills in identifying illegal and potentially deadly tobacco.
The roadshow is part of the Keep It Out campaign across South London, informing shoppers about how to identify illicit tobacco and the health dangers they pose, as well as encouraging people to report retailers who sell the products illegally.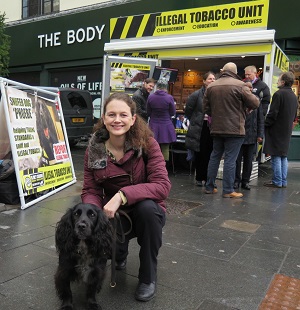 Lambeth Trading Standards estimate that 15% of all cigarettes and over 50% of all hand rolling Tobacco consumed by local residents is illegal – either counterfeit or smuggled.
Cllr Jane Edbrooke, Lambeth's Cabinet Member for Neighbourhoods, said: "Illegal tobacco is even more dangerous than the real thing. It poses serious health risks to anybody using it and its production and sale is usually part of wider criminal activity.
"The cheaper price tag is often used to attract young smokers and may seem appealing, but people need to be aware that these products can be deadly – it is definitely not worth the risk.
"Our enforcement officers do a great job in catching the irresponsible and criminal retailers who sell illegal tobacco and the skill demonstrated by these sniffer dogs is really quite astounding."
The Keep It Out Campaign
The Keep It Out campaign is being run throughout Bexley, Bromley, Greenwich, Lewisham and Southwark.
The Illegal Tobacco Unit has been developed for road shows by detection dog handlers BWY Canine. It is a mobile unit and it is a chance for people to watch sniffer dogs give a detection demonstration.
Stuart Phillips, detection dog handler for BWY Canine, said: "We've used the dogs as a big part of engaging with the public and it's been very successful. People have learned a lot and are more aware now, and it acts as a deterrent for those who are involved with illegal tobacco."
The dogs can be followed on twitter at @bwyk9 and the campaign website can be found at www.keep-it-out.co.uk