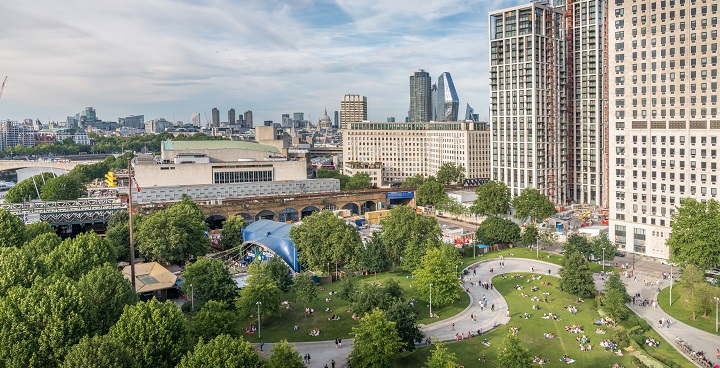 The council is launching a trial of Healthy Route interventions along the Spine Route at two key locations, Waterloo Bridge and Bernie Spain Gardens to make them safer for cyclists, pedestrians, and all road users.
The Spine Route is the network of streets around Jubilee Gardens, Southbank Centre, and Bernie Spain Gardens. The Route is used by millions of people every year as a vital connection to world famous cultural institutions such as such as Royal Festival Hall, Hayward Gallery, and the National Theatre.
Deputy Council leader Cllr Rezina Chowdhury, cabinet member for Sustainable Lambeth and Clean Air, said: "The Spine Route plays an important role in supporting all manner of activities from the institutions on the Southbank, to the businesses and visitors who flock to Waterloo every day to enjoy the culture that Lambeth has to offer.
"Healthy Routes are a vital part of our strategy to make the whole of Lambeth safer, less dominated by motor vehicles, and significantly reduce air pollution.
"I am delighted this new route will be trialled and I look forward to seeing for myself how this will support more equal access to these streets."
The trial schemes at Waterloo Bridge and Bernie Spain Gardens will run for 12-18 months and both residents and businesses will be able to give their feedback.
The council will use Experimental Traffic Orders (ETOs) to introduce the Heathy Route and the trial street improvements. During the trial the council will monitor traffic levels.
The changes include:
On Upper Ground, at Waterloo Bridge, there will be new traffic filters installed and a series of coach parking bays on the ramp beside the bridge will be removed to reduce road danger for cyclists coming off the bridge.
On Upper Ground, at Bernie Spain Gardens there will be a new one-way section on the east-bound part of Upper Ground, from Duchy Street to Broadwall. Contraflow cycling westbound will still be permitted via a protected cycle lane.
Further details of improvement works for the Spine Route at Concert Hall Approach and Belvedere Road will be published in the near future that will introduce further measures to make walking and cycling safer and easier.
Cllr Chowdhury added: "We are working with our partners in Waterloo and the Southbank to realise our vision of transformed streets where people feel confident and empowered to get where they need to be in more sustainable ways."