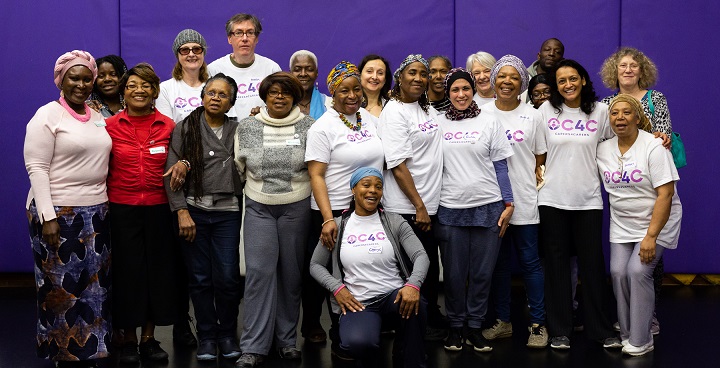 People who are regularly active benefit from enhanced quality of life, confidence, and improved physical and mental wellbeing.
But even people with the strongest habits are at risk of dropping out when they go through a major life change, whether that's a serious injury or illness, having a baby, children starting school, a new job, moving house or retiring.
Lambeth Council is one of a number of partners that Sport England is working with to help people to stay active – particularly those most vulnerable to dropping out, such as people on a low income, women, older people and people with a disability.
Lambeth will work in partnership with Carers4Carers to deliver Inspirational Us – Active; a programme of physical activity, complementary therapy, volunteering and training opportunities to residents experiencing the life change of becoming a carer.
Word from the Cabinet
Leader of Lambeth Council, Cllr Lib Peck, said: "We're delighted to have received this Lottery funded grant from Sport England that, along with council funding, will help Lambeth's unpaid carers, who are going through life changing experiences, to stay active and well.
"When there is so much else going on in your life, it can be difficult to keep fit and physically active, this programme will help combat that, helping maintain people's physical and mental wellbeing, offering new opportunities and providing a support network."
Carers4Carers
The social enterprise, Carers4Carers, run by and for carers, already deliver a similar successful programme one day per week from Brixton Recreation Centre. This will now be replicated and expanded in other parts of the borough by offering a varied, affordable range of indoor and outdoor activities, complementary therapies and opportunities for training and volunteering.
This will enable those experiencing the life change of becoming a carer to continue to engage in sport and physical activity; remain physically and mentally well; socialise and be supported by others in a similar situation and improve individual, social and community development prospects through the offer of volunteering and training opportunities.
In addition to the lottery funding Lambeth will contribute £45,648 to this exciting project. Walker Research Group will evaluate the success of the programme.
'Make it easier for people to stay active'
Sport England's Director of Sport Phil Smith said: "We know that when life changes, activity habits can change too. Leaving school or college, getting a new job, starting a family, retiring from work – all big challenges for even the most committed to sport and fitness. We want to find out what would make it easier for people to stay active after that big change.
"Thanks to National Lottery players, we are giving London Borough of Lambeth project funding so they can help unpaid carers to remain physically active when experiencing the life change of becoming a carer. Sport England will support this work and share what works – and what doesn't – more widely among the sport sector so more can be done to help support people to keep up their activity habits whatever happens in their lives."