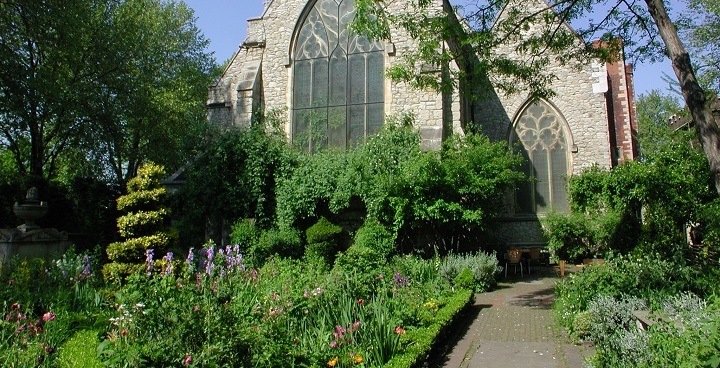 At the end of last year the Garden Museum was awarded a grant from the EDF London Eye/VMG Community Chest fund. This has enabled us to have Seasonal Saturday family craft sessions, every week until the end of August, as well as a new voluntary gardening group based in St Mary's – our public garden at the front of the museum.
St Mary's Saturday Gardening Group
Our group work specifically in the public garden on Lambeth Road. We have now successfully built and painted four raised beds on the central patio space of the garden. These were all made from scratch, with technical guidance from Ella, our horticultural expert.
So far we have planted courgettes, onions, beetroot, cauliflower, salads, kale and made hazel wigwams for beans and sweet peas. There are two more beds ready to fill and plant up. We also have potatoes in the ground which are growing fast and annuals which will flower any day, ready for making posies for our flower cart.
We are looking forward to the Lambeth Palace Fete on 28 June where we will load the cart up with our home grown goods and take a spot there amongst the other stands.
Getting involved
We meet every Saturday from 11am till 2pm.
The group is open to everyone and anyone who is up for getting their hands dirty and developing their own horticultural skills. Whether you're something of an expert or a keen beginner, come and join us.
Sessions are supported by our horticultural freelancer Ella Perkins, who oversees the on-going development of the garden and delivers more focused skills sessions on making raised beds, growing annuals and more.
More details
Please see the St Mary's Gardening Group website for more information, or get in touch with frances@gardenmuseum.org.uk if you'd like to join in.
Lambeth Volunteer Month
We've designated the whole of June as volunteering month here in Lambeth. There are many wonderful opportunities available throughout the borough in a wide range of groups and skills. We will be highlighting just some of these throughout the month.
If you would like to get more involved with your local community or are looking for volunteers please go to www.lambeth.gov.uk/DoTheRightThing or Twitter hashtag #volunteermonth