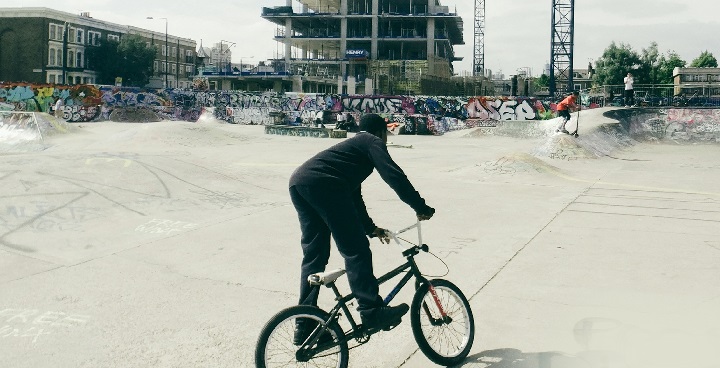 Stockwell Skatepark was first constructed in 1978, the park is a popular and iconic skate sports park with a large number of users both from within the borough and beyond.
Due to its worsening condition, major refurbishment is required and Lambeth Council have been working closely with the Friends of Stockwell Skatepark (FoSS) to plan this refurbishment.
Specialist skatepark contractors Canvas Spaces have been appointed as the lead contractor to carry out the design and build. Canvas Spaces are an experienced skatepark builder and are looking forward to working on Stockwell Skatepark.
The majority of the park will remain the same, but with a new surface. There are parts of the park which will be redesigned to make them fit for purpose. We want to hear from users of the park about how to improve the park through this refurbishment.
Word from the Cabinet
Cllr Sonia Winifred, Cabinet Member for Equalities and Culture, said: "This is a hugely popular skatepark right in the heart of Lambeth and it's important that its fit for purpose for all those people who use it. Spaces like this are often hard to find in central London and are so important to give people of all ages somewhere to enjoy their free time.
"We've managed to get an agreement with various partners to properly fund a renovation of the park, which will be done with the advice of Friends of Stockwell Skatepark to ensure it remains a great place for people to skate for many years to come."
Stockwell Skatepark Open Day
Users will have the opportunity to feed in their thoughts and suggestions on the Stockwell Skatepark Open Day on 22 September 2018. This open day will be held in the skatepark from 1pm to 5pm. Residents will have the opportunity to speak to Canvas Spaces, FoSS and Lambeth Council about the upcoming works and to input your suggestions.
The work has been made possible through the generosity of funders, Networks Homes and London Marathon Charitable Trust alongside Lambeth Council.
If you have any questions or want to find out more about the upcoming event or the works, you can email parks@lambeth.gov.uk.