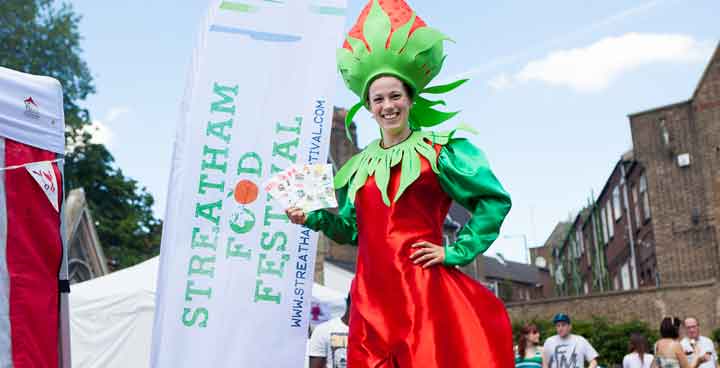 Now in its sixth year, Streatham Food Festival is a five-day celebration of the area's vibrant food scene. Involving businesses, community groups, schools and the public the festival aims to bring people together through a shared love of food.
Festival-goers are once again invited to take a food tour of the world in Streatham, visiting up to 30 local eateries for taster plates of food. With dishes priced between £2-£5 each, the Streatham Food Tour creates an affordable way to try lots of local restaurants and it's great fun too!
A regular feature on the programme, our Sunday Food Fair will be returning to Streatham Green on Sunday 7 June for another day of food stalls, cooking demos, live music and community.
We're particularly excited to be hosting the final of our new children's recipe competition on the day. Nine local primary schools are taking part, with pupils invited to create a recipe that celebrates the rich mix of cultures in our community.
As one of the GLA's Food Flagship boroughs, Lambeth is leading the way in tackling childhood obesity, and we're proud to be encouraging pupils to develop an appreciation of real, healthy and sustainable food. Visit the Lambeth Food Flagship stand on Sunday 7 July to find out what it's all about and how this could benefit you, your family and community.
More Information
For the full line-up of events and to find out more, visit www.streathamfoodfestival.com
Would you like to volunteer?
We're always in need of volunteers to help out with the festival so if you have a few hours to spare please, visit www.streathamfoodfestival.com/volunteer