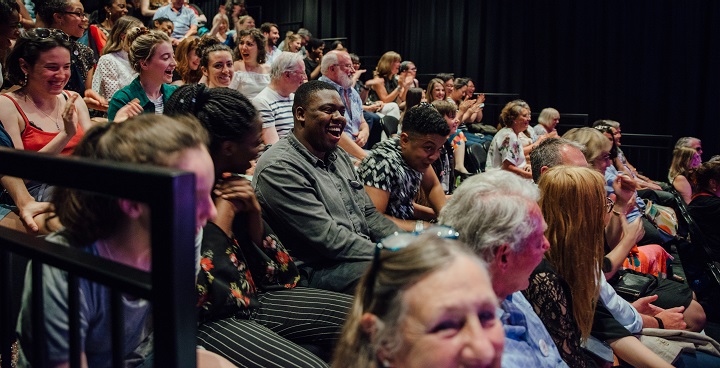 Streatham Space Project is a purpose-built, artist-managed creative centre. Creative Director Andy McKeane said: "We want that quality of connection you only get with live performance – with the artists, with each other.
Word from the Cabinet
Cllr Matthew Bennett, Lambeth Cabinet Member for Planning, Investment & New Homes, said: "As part of the planning permission for the London Square development of 214 new homes in Streatham Hill we required a new theatre to be provided for the community. I'm delighted that this project is up and running. It's generating a lot of local enthusiasm and has an excellent team in place to deliver on those expectation."
A place for everyone
Andy McKeane: "Our involvement came about as we happened to be meeting opposite the site. Someone said 'that hole in the ground is going to be a theatre. We wanted to make sure it would serve our area with great art and entertainment. We had to learn quickly – we went round lots of other venues in London asking for advice and put together an application. Now we're a charity with a board of independent trustees, running a venue for our neighbourhood."
Doing it together
"At our opening in June, our ribbon was cut by 10 pairs of scissors. Instead of just one person cutting it, we had the Mayor of Lambeth, a local schoolteacher, one of our artists, members of our community – we started how we mean to go on. Doing it together."
Homegrown talent
"Our opening month was called 'Testing Testing' – we put on lots of  different shows to see what our audiences respond too – a MOBO-nominated songwriter, an up-and-coming Streatham country duo, comics Arthur Smith and Jeremy Hardy and Selina Nwulu, young poet Laureate for London. Every artist lives within a mile or two. Our Autumn programme will respond to who came – but also look to build our audience base and reach into different corners.
Always a project, not an end product
"It's named Streatham Space Project because it's always going to be 'What can this space do for Streatham'? Do we use the space to discuss issues in the community? Should we use it to boost the economy and be part of regenerating the high street along with local businesses? Should we bring in more visitors and make Streatham a 'destination' again? Our agenda is "getting people out of their houses" – getting them off Netflix, off You Tube. It's a place where people come and see and do great things – together."
---
For more information