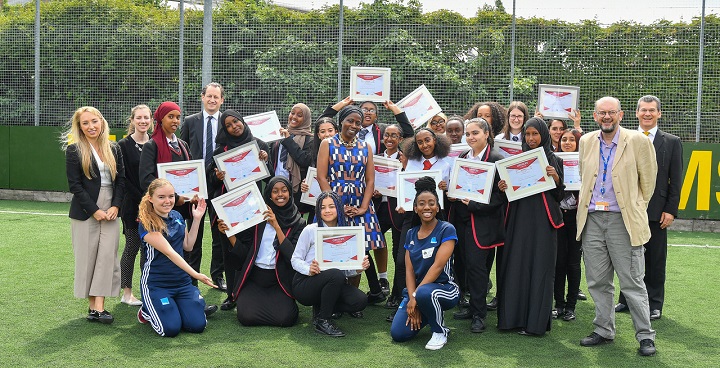 Lambeth Council's Deputy Leader has praised 19 young women from Lambeth, following their graduation from an impactful youth support project. Cllr Jennifer Braithwaite visited Lilian Baylis Technology School to meet the group and hear first-hand how the three-month Street Elite programme has helped them grow in confidence, learn new skills, and challenge their preconceptions about women in sport.
Intensive coaching
The graduates, all local residents aged 14-15, have been taking part in intensive coaching sessions run by qualified sports coaches and mentors from The Change Foundation, with support from the Berkeley Foundation and Lambeth Council.
Renewed outlook
This unique youth project uses a combination of team sports, group workshops and one-to-one mentoring to build aspiration, skills and self-belief. Nominated to take part by their teachers, the young women were identified as students who could benefit most from this intensive programme, which aims to stop people falling out of education, or give them a renewed outlook on their abilities.
Motivated
Amina, a student at Lilian Baylis Technology School said "Street Elite has opened my eyes to different opportunities and has motivated me to do more sports. It's been an amazing experience and I have learned a lot. It's also increased my confidence."
Word from the Cabinet
Cllr Braithwaite, Lambeth council's Deputy Leader, said: "These young women are a fantastic reminder of the talent and ambition that is ready to be harnessed in Lambeth. Hearing them speak about their experience with Street Elite just shows the self-confidence that the programme has given them.  As a Lambeth Equality Commissioner I am really encouraged to see how the initiative is helping young women to find their voices. Sport can work as a great launch pad for young women to build their ambition and confidence for the future."
More conviction
Sally Dickinson, Head of the Berkeley Foundation, said: "We're delighted that young women in Lambeth are experiencing the benefits of the Street Elite programme.  Thanks to the support of Lambeth Council, all 19 graduates are leaving the course with more conviction in their own abilities and what women can achieve."
Many of the graduates have been a renewed energy and become better communicators, gaining a more positive outlook and setting themselves new education and career goals for the future.
For more information
Over 1.25 million young women in the UK are classified as 'economically inactive' in the latest Labour Force Survey. In London, the problem is particularly acute – 9.5% of women aged 16 to 24 aren't in education, employment or training.
Street Elite involves nine months' coaching and mentoring for 18-25s (often on the edge of gangs and criminality), helping them gain confidence, qualifications and self-esteem. Since 2012, 74% of over 350 graduates have gone into education, training or employment.
For more about the Berkely Foundation see their information pages. This includes a short film about Street Elite