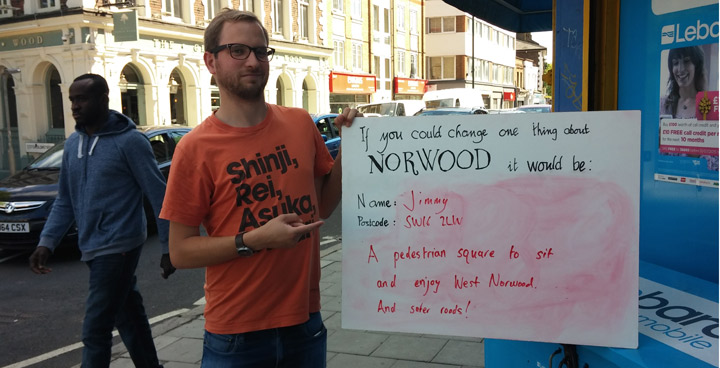 The StreetWorks project was sparked by a series of accidents around the gyratory, and in 2013 the local community petitioned to be included in the Junction Improvement Programme initiated by the Mayor of London. The main aim is to create an identity within the area, build a stronger community and make it place people want to visit.
Who's involved?
The project steering group includes representatives from Norwood Forum, Tulse Hill Forum, Lambeth Council and local councillors. Chair of the Tulse Hill Forum, Erica Tate, explains: "The Tulse Hill Forum got involved because it offers solutions to benefit local people, including being involved with street design, project management and community events."
The steering group wants to ensure that the people who live and work on the Norwood Road end up with a much improved environment and importantly, one that all of us will have helped to plan and create.
How to get involved
We had our first co-design workshop in September, which was interactive and gave a real sense of what we could actually achieve. We have more design workshops taking place soon and if you can make it then it would be great to see your ideas impact this important part of the process.
The workshops take place:
Date: Tuesday 13 October, Tuesday 10 November and Tuesday 8 December,
Time: 6.30-8.30pm
Location: Salvation Army, 246 Norwood Road, SE27 9AW.
Get in touch
We are also working with many local organisations to engage with local people and businesses and get their input into the project. If you would like to work with us or have a great idea, we want to hear from you.
Email hello@streetworks.london or visit www.streetworks.london