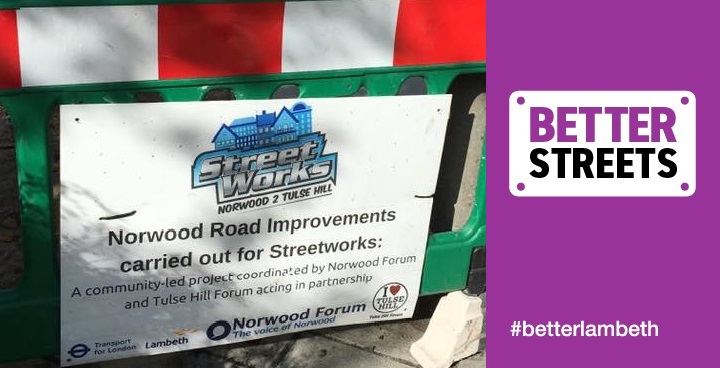 Mark your diaries, Sunday 22 October is party time for Streetworks.
StreetWorks is a unique community-led project to improve Norwood and Tulse Hill. The project is funded by Transport for London (TfL) and supported by officers at Lambeth Council. Streetworks is revolutionary in that funding was managed by the local community with the local authority in a monitoring role rather than delivering outcomes to the community.
Community and council
The Norwood Forum, the Tulse Hill Forum, local councillors and community groups have been working together with residents, businesses, schools and road users to design a better space. It was the community who decided to prioritise wider pavements in the area.
Streetworks was built on previous successes where the local community realised a vision for their areas, such as the award-winning Van Gogh walk in Stockwell. Phase one is now complete, with better access to the station – a city space with planters and trees, and no more car parking getting in the way of emergency vehicles.
Two groups one goal
Local people felt a sense of ownership and expertise with local knowledge making them well placed to shape the outcomes. The project has proved how well two different  community groups could work together to lead and deliver two different projects (one in West Norwood and the other in Tulse Hill) with a common goal.
Gyratory update
Work to modernise the gyratory (one-way system) in Tulse Hill is still very much on track, TfL aim to complete the feasibility section of the process by November 2017, have recognised the importance of community leadership and involvement, and hope to remove the accident blackspot and the 'racetrack' making access to Tulse Hill Station safer.
This is a significant breakthrough for local people in developing proposals for a TfL managed road network, The precedent may be set for future Lambeth Council and /or TfL projects.
---
For more information