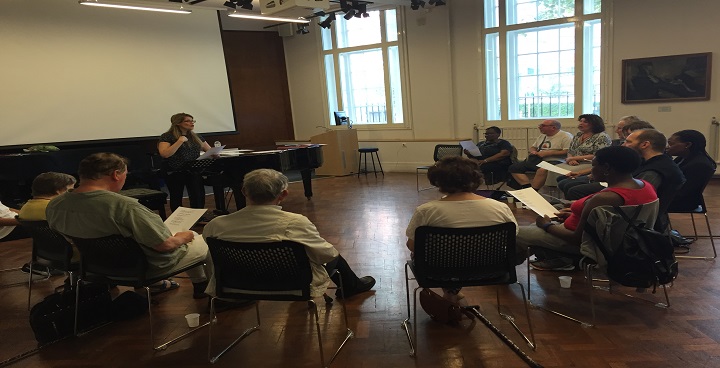 The London Stroke Choir is one of the most successful projects of the Lambeth and Southwark Stroke Network that helps people recover and enjoy life.
It's open to anyone who's recovering from a stroke – whether they've sung before or not. When communication is hard work, it can really help.
Getting the choir restarted
First the bad news; our Stroke Project ran out of money in March. Now for the good news: we have managed to successfully fundraise to restart the London Stroke Choir. The Choir has been running (again) since September, with thanks to the Battersea Power Station Foundation and generous donations via our Crowdfunder Campaign.
Celebrate with us
We want to share how much fun we have been having so, with the help of the Bio Science Research Team at King's, we are putting on an event to celebrate! We have the first performamnce from the re-born London Stroke Choir and Stroke Odysseys, plus an opportunity to find out more about the Stroke Research Team and King's College London "Stroke through a lens" photography exhibition.
It's a great way to find out about Stroke Recovery in Lambeth and enjoy yourself in the run up to the holiday season. You can book via eventbrite or call Louise on 020 75010 8976 or Manuela on 07773 810 264. Lunch included.
This event is for Stroke Survivors & Professionals. Informal carers and assistants are welcome too.
What's next?
We've already put in a bid to the Maudsley Charity to fund the choir for two more years. More plans for 2017 include putting in a grant application to fund the whole Stroke Project and get back to running weekly groups (swimming, games club, social group) and occasional outings.
Get involved
If you can't come to our event on Monday, 5th December at 336 Brixton Road SW9 7AA you can still: