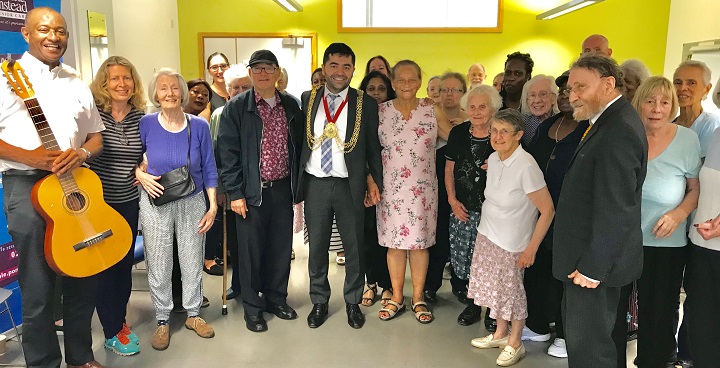 A pop-up café to help reduce isolation for anyone  over 65 – especially with Dementia and Alzheimers -is open every week at Gracefield Gardens.
Visitors and VIPs
Kemi Browne explains the story so far: "We started in February this year, with just two customers. Now we've got 20 regular visitors, plus their carers and friends or family. We're using both the big downstairs rooms every Wednesday from 2pm to 4pm.
Volunteers and variety
"The numbers keep going up, so we think we're making a positive difference. Mayor of Lambeth Cllr Dogus visited us in the summer to support our efforts. It's not just tea and coffee, or even tea, coffee and a healthy snack, that's only half an hour of the time. The rest can include armchair exercises, knitting, singing, bingo, arts and crafts  – whatever the volunteers want to lead on. Sometimes (like this week) we have guest singers. Everything is a form of engagement – asking people what kind of music they'd like to hear.
Word of mouth
"Our main catchment area is local to Streatham. But people tell their friends and we currently also have attendees coming from  Balham,  Tulse Hill, Brixton. We also have regular attendees form the Woodlawn centre in leigham court road  (Streatham) and the Autumn Rose club in Balham. We also have visitors who've been to see their GP at Gracefield Gardens and seen our posters there.
More to offer
"Growing bigger means we have more people interacting in safety. We're hoping to increase our opening times because we want to offer more activitites, and that would mean we'd be looking for more vounteers. If anyone can bring in more activities, maybe something like jewellery making .
What the volunteers get out of it
"Volunteers don't really need any special skills, just compassion. We can help them get accreditation. It's a good way for people who might be thinking of going into working with people to learn if that kind of work will suit them. The main thing is that it's all about meeting people and interacting."
For more information