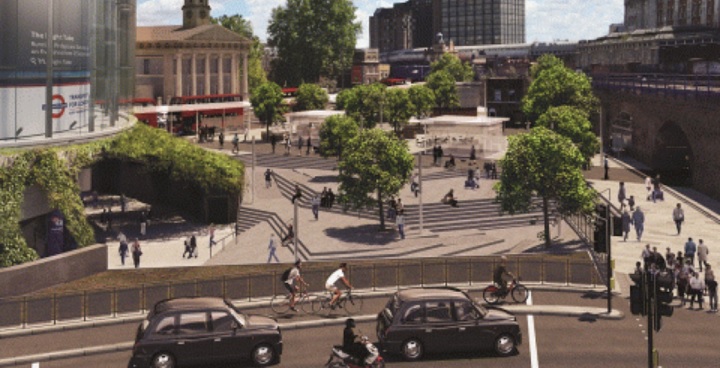 Transport for London want your views on their proposals to create a better Waterloo. Their proposals aim to create a healthier and safer environment for people to walk and cycle and use public transport as well as support the regeneration and growth of Waterloo. These proposals aim to improve the quality of life in the area by:
Reducing the dominance of traffic, allowing people to better enjoy the area
Creating a healthier and safer environment
Planting more trees to replace the removal of trees will have the potential to benefit biodiversity, landscaping and wildlife
Creating a sense of place with the proposed new public square
Creating a focal point for Waterloo, helping build on it as a cultural destination and support the regeneration and growth of Waterloo
Keeping buses and traffic moving through the area.
The proposals form part of the Mayor of London's plan for Healthy Streets – a long-term vision to encourage more Londoners to walk and cycle and use public transport by making London's streets healthier, safer and more welcoming.
What TfL are proposing
The proposals would:
Create a new tree-filled public square supporting civic and cultural life of the area by moving the existing bus stops from Tenison Way to an improved bus station on Waterloo Road, closing the south-west arm of the roundabout and changing the remaining carriageway to two-way traffic
Introduce segregated cycle lanes making cycling around Waterloo roundabout safer
Create new pedestrian routes and permanently remove some subways (but keep others) to help create more direct walking routes towards the river Thames. The subways can be unpleasant and divisive, inaccessible to large sections of the community
Widen the footways on Waterloo Road to give more space to pedestrians and passengers waiting for buses, by narrowing the carriageway through removing a section of bus lane
Relocate northbound and southbound bus stops to keep traffic moving on Waterloo Road
Ban the right turns from Waterloo Road into Stamford Street and from Concert Hall Approach (except for buses) to keep traffic moving.
Have your say via the TfL website
Please visit the TfL consultation website to read the full consultation details, view diagrams, maps and artist impressions, and complete the online survey.
Consultation events
Tfl are holding a number of exhibitions throughout the consultation, where you will also be able to view a scale model of the proposals. The dates of these events where you can see and discuss the proposals are:
Monday 10 July from 12pm to 7.30pm
Level 3 Blue Side, Festival Hall
(with the exhibition staying until end of Wednesday 13 July)
Wednesday 26 July from 12noon to 7.30pm
St John's Church, Waterloo Road, opposite the BFI IMAX
(with the exhibition in the Church for that week)
Thursday 10 August from 12pm to 5.30pm
Waterloo Action Centre, 14 Baylis Road, near Lower Marsh market
Sunday 13 August 10am to 3pm
Palestra, 197 Blackfriars Road, opposite Southwark tube
(with the exhibition in the reception area for the following week)
More dates will be added. Please see the TfL consultation website for the latest event information.
Word from the Cabinet
Cllr Matthew Bennett, Cabinet Member for Planning, Regeneration and Jobs, said: "As a council, we are committed to ensuring this project benefits everyone, that it brings opportunities for local residents, including more jobs and business opportunities, safer streets and a more pleasant environment.
"We have been working with local residents and TfL over many years to make Waterloo a more attractive place, and to improve everyone's ability to move around. I hope these proposals bring those ambitions closer to fruition and I'd encourage everybody who lives, works and travels through Waterloo to take a look and let us know their thoughts.
"As well as the Waterloo City Hub, we've worked with TfL on Westminster Bridge South Roundabout to improve pedestrian and cycle safety and Lambeth Bridge South. We have invested in upgrading Lower Marsh, and are about to do the same on Westminster Bridge Road. Together, we think these will make Waterloo a safer, happier and healthier place."