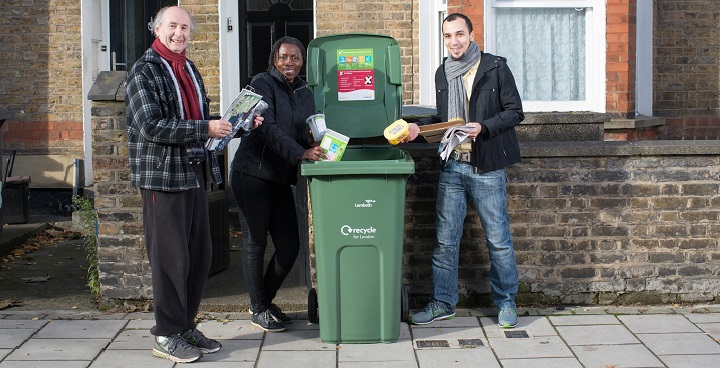 Following a successful trial in Herne Hill last year, green wheelie bins for recycling will start to be delivered to residents in Lambeth, replacing the current clear recycling sack service. The new bins will:
Encourage recycling – The new bins hold five times more than a clear recycling sack
Save money – Over 10 million recycling sacks are issued every year – at huge cost to the Council. The new bins will save £450,000 per year.
Make streets cleaner and tidier – For the first time waste collection, bulky collections and street cleansing will all take place on the same day. The mess created by foxes and other pests tearing open sacks will be significantly reduced, making streets look cleaner and tidier.
Bin delivery
All the new bins should be delivered by the end of February. Many homes will now have a three-bin approach for rubbish, food waste and recycling. A borough-wide poster campaign will explain how it's easy as 1,2,3 and a fleet of recycling collection vehicles will carry the same message.
We're investing in green recycling wheelie bins that will last 10 years (or more) and save the environment by avoiding the use of hundreds of millions of plastic recycling sacks.
Some things stay the same
Recycling will still be collected once a week on the same day as food waste and rubbish bins. The recycling service won't change for residents on estates who are recycling in communal bins – that will stay the same. Homes where a bin isn't a practical solution (usually because of space) will continue to get free deliveries of clear recycling sacks.
Reasons to recycle
Cllr Jennifer Brathwaite, Lambeth Cabinet Member for Environment and Transport, said: "The new green bins will encourage recycling, save money and help make our streets cleaner and tidier. Despite severe cuts to our funding from central Government, I'm proud that we've continued to provide a good service to our residents. Over 93% of our roads are judged to be in an acceptable condition and the proportion of residents that think rubbish and litter is a problem is continuing to fall. The green bins should also help reduce the impact on our environment – 80% of waste is recyclable and the cost of disposing of waste from your recycling bin is nearly six times cheaper than disposing of the waste placed in black bins."
---