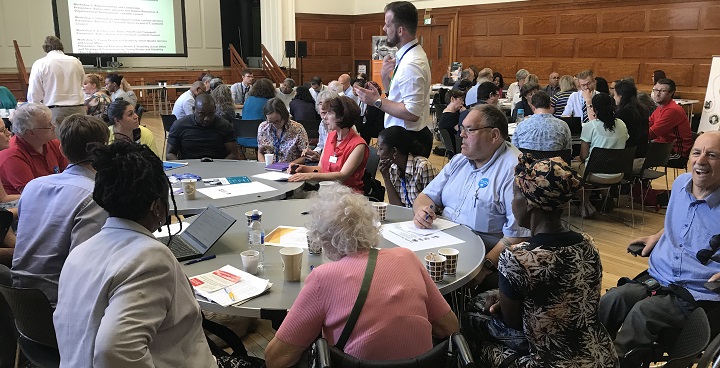 The social model of disability
The aim of the event was to look at how the council can address the Equality Commission recommendations by taking feedback, ideas and potential solutions from disabled residents and organisations, and ensuring that the social model of disability is at the core of everything the council does.
It also allowed residents and organisations the opportunity to get an update on the work that the council is already doing to tackle the barriers facing disabled people in Lambeth, as well as to speak directly with council staff working in areas that are important to disabled people.
Time for change
The afternoon was chaired by Cllr Sonia Winifred, Cabinet Member for Culture and Equalities, who opened the event and thanked the residents and disability groups for coming. Keynote speakers included Cllr Lib Peck, Leader of Lambeth Council and Chair of the Lambeth Equality Commission; Andrew Travers, Interim Chief Executive of Lambeth Council and Isabelle Clement, Director of Wheels for Wellbeing and Lambeth equality commissioner.
Over 70 people – including representatives from over 20 different organisations – took part in a range of sessions on topics such as, among others, being heard in decision-making, representation and leadership in the council and accessing services without difficulty.
Workshops were led by officers from a wide range of departments across the council, including education and learning, growth, planning and employment, customer services & ICT, Public Health and consultation and engagement.
The next steps
The workshop discussions produced a wealth of feedback and ideas which will go towards shaping how the council provides its services both in the short-term and into the future as it responds to the report's recommendations and puts the social model of disability at the core of everything it does.
A follow-up meeting was held on Thursday 19 July to discuss the council's plans for a pan-disability reference group, including what its role should be and how it should be run, so that disabled residents in Lambeth can have a stronger voice in local decisions.