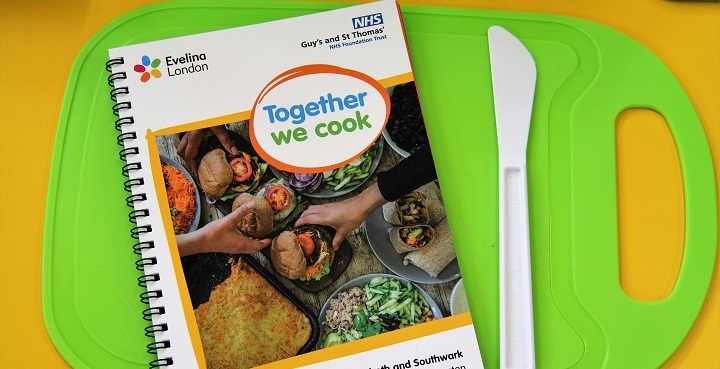 A recipe book funded by Guy's and St Thomas' Charity includes food inspired by the diverse populations of Lambeth and Southwark– the Caribbean, West Africa, Portugal, and India, for starters – but all these traditional dishes come with a twist. All the recipes have been adapted to cut down on sugar, salt and fat and make them fit in better with the latest information about healthy eating.
Family favourites
Families in Lambeth and Southwark that attended the 'Cook & eat well course' contributed their favourite recipes to 'Together we cook' recipe book.  It was written by Early Years Community food workers   of Evelina London  Community Nutrition and Dietetic Service: Maryam Bader, Ana Da Silva and Harriet Preston.
Varied and value 
The carefully thought out recipes (like cornmeal porridge, jerk chicken, veggie wraps, orange and carrot cake) in 'Together we cook' allow families to choose  recipes that are  varied, nutritious and value for money.
Cook and Eat Well courses
'Together we cook' is given to parents who complete 'Cook & Eat Well' courses, like Yuliyan from Kennington who attended with his three-year old daughter. He said: 'Who said healthy food is expensive and doesn't taste good? Just look at the recipes in this book.' Serena from Brixton is also the parent of a three-year old said: 'It's good for children to learn how to cook from a young age and to learn more about food from other cultures and using alternatives to meat and sugar.'
For more information
Figures from Public Health England in 2019 show that 23.4% of under-16s in Lambeth were defined as living in poverty, and 10.5% are classified as obese, compared with a national average of 9.5% in England.
Download a copy of Together we cook
Information on cookery courses can be found at Evelina London Community Food Workers Facebook page or information pages 
The together we cook recipe book was made possible thanks to donations. For more information from Guy's and St Thomas' on fundraising for Evelina London Children's Hospital see their information pages