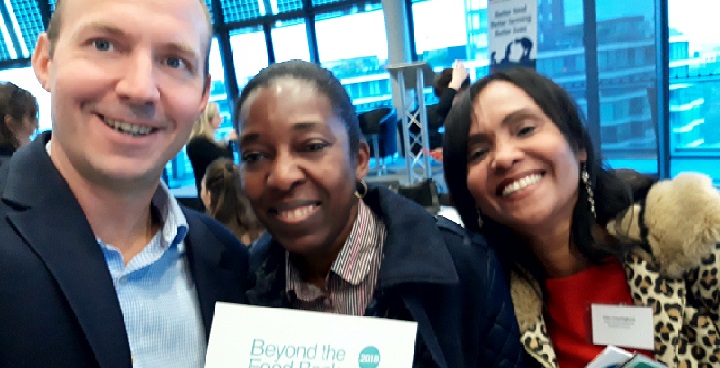 A new report from the London Food Poverty Campaign at Sustain has recognised Lambeth council for taking an effective approach to address food poverty for residents in Lambeth.
Beyond the Food Bank
The annual Beyond the Food Bank report monitors what London boroughs are doing to avert or ease the causes of food poverty and improve the local food system. This year's edition, which has seen the addition of a new measure on 'holiday hunger', awarded Lambeth 'Best Overall Borough' in this year's Beyond the Food Bank league table at a launch event on 5 November at City Hall.
Word from the Cabinet
On receiving the recognition award at a City Hall event, Councillor Ed Davie, Cabinet Member for Health and Adult Social Care, said "I'm delighted that Lambeth has been recognised as Best Overall Borough in the Beyond the Food Bank league table. We have been taking concerted action across the Borough to tackle food poverty including promoting uptake of Healthy Start vouchers, supporting breastfeeding and working with vulnerable families and food businesses to increase fruit and vegetables uptake".
Healthier system
Not only did Lambeth scoop the top spot in relation to addressing Food Poverty, but the Borough also climbed up the rankings in The Good Food for London report which charts the progress made by London's boroughs in making London's food system healthier and more sustainable. Councillor Davie said  "We will continue to build on this success and are committed to ensuring better access to affordable, and healthier food for residents."
For more information
Sustain is the alliance for better food and farming that represents over 100 organisations working at international, national, regional and local levels. See their news pages
The Beyond the Food Bank report assesses London local authorities against 10 measures which cover powers that local authorities have to alleviate food poverty and its contributing factors. The London Food Poverty Campaign and Beyond the Food Bank report is funded by Trust for London, with additional support from the Mayor of London. Read the full report online.
This year's report revealed that only three councils scored top marks for their efforts to tackle holiday hunger with 14 councils not reporting any attempts to address the issue.